Tinapang Bangus with Sinangag- Smoked Fish on Garlic Rice
As an Amazon Associate and member of other affiliate programs, I earn from qualifying purchases.
[amazon_link asins='B01LXIU2RS,B001EQ5LLC,B003T0DKB4,B0042IRJHI' template='ProductCarousel' store='queensnotcom-20′ marketplace='US' link_id='80eb622a-1d7c-11e8-969a-2186286b0253′]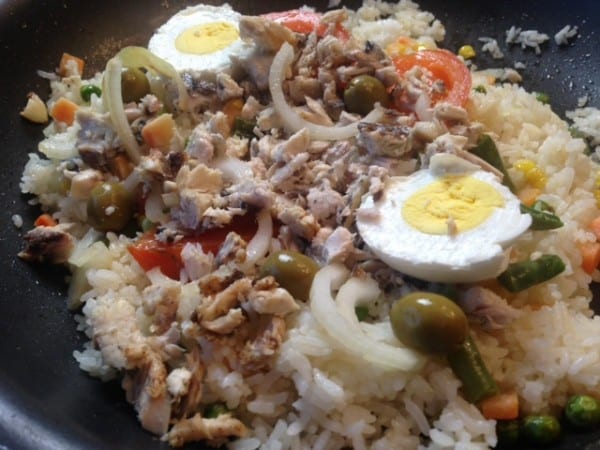 Tinapang Bangus with Sinangag (smoked fish on garlic rice) is so tempting we don't wait for Lent to have it. It's more of an indulgence for us here in our home in America, when we don't have it as often as we did in the Philippines. Tinapa (say 'tee-nah-pah') is smoked fish of any kind in the Philippines. I don't claim to be an expert on the topic. Yet we grew up on this type of Filipino smoked fish as part of our meals. My understanding is that smoking fish was one of the ways to preserve food in hot, tropical climates (like the Philippines). Many homes in the rural, agricultural areas had to find ways to preserve food that required no refrigeration. Salting and smoking fish was one of them.My favorite is the Tinapang Bangus or smoked milkfish because it is larger than most. We can now buy the 'boneless tinapa' in Asian groceries here in America. It is quite a treat.
Today, one of the best brunch fares we enjoy is a spread of Tinapang Bangus ( say 'bang-ngus') which I pan fry in less than five minutes. The tinapa is already cooked and packaged when I buy it from the Asian grocery. After a quick fry, the golden skin is crisp, so with a knife inserted into the side of the belly, I can open up the fish, butterfly-style to revel at the large portion of salty fish flesh and the dark grayish salty belly in the center, my favorite part. The fish is very salty. It flakes up immediately to the touch of one's fork. The robust, smoky flavors are a sharp contrast to the simplicity of rice, the sweetness of vine-ripened fresh Jersey tomatoes and eggs on the side. This time, I sliced open some salted duck's eggs to go with the chopped tomatoes.
The day after this brunch, we had tinapa leftovers. I always view leftovers as an opportunity to start a new dish for another meal. So I flaked what was left of the salted fish and mixed it into garlic rice, chopped tomatoes, onions, added olives and perched the salted egg slices on top. In this Lenten season when penitence and sacrifices are expected of us, may I be forgiven for indulging in this super splendid tinapa feast on garlic rice.
Tinapang Bangus on Sinangag- Smoked Fish with Garlic Rice
Tinapang Bangus or smoked milkfish are a favorite breakfast fare in the Philippines. It is usually accompanied by rice, tomatoes and eggs. What a great start to any day. The Tinapang Bangus was easy to flake. In a few quick minutes, I stir fried garlic, onions, tomatoes, rice,and seasonings. It resulted in a big bowl of tinapa on sinangag. This is an AsianInAmericamag recipe. Serves 2 to 4, as an entrée or a side.
Equipment
Large Skillet or Wok: 12 inches in diameter
Ingredients
3

whole

medium-sized Tinapang Bangus (smoked milkfish)

boneless (packaged sells 2 or 3 at a time), from Asian markets: or use other types of large smoked fish

6

Tablespoons

vegetable oil

divided, use 2 for pan frying fish, the rest for sinangag (garlic rice)

4

cloves

garlic

peeled, mashed

1

whole

large onion

sliced

2

whole

tomatoes

chopped

3

cups

cooked rice

prefetably white rice; must be at least a day old, refrigerated

1/3

cup

pitted green olives

1

teaspoon

salt

1

teaspoon

ground black pepper powder

2 to 3

whole

salted eggs

already cooked, sliced, peeled (from Asian markets)

1

teaspoon

calamansi or lemon juice

1/2

cup

cooked corn kernels

1/2

cup

cooked green beans

sliced into 1-inch pieces
Instructions
To prepare the smoked fish: Pan fry the smoked fish in a large non-stick skillet with oil, over medium heat for about 5 minutes, turning fish over once to cook evenly. (Package directions of Tinapang Bangus also suggest baking the already cooked fish as an alternative). You can serve the fish whole at this point. Or for this sinangag dish, flake the inside flesh.

To slice open the fish : Slide a knife into the sides. If the smoked fish says 'boneless' on the package, there is already an open slit. Remove the inside flesh with a large spoon.

Flake the flesh and belly into shreds. The amount of 3 medium sized smoked milkfish will yield about 1 and 1/2 cups of flaked fish. Set aside for adding to the rice later.

To cook the sinangag: In a large skillet, over medium heat, saute the garlic. Press the cloves with the back of a cooking spoon so it flavors the skillet and oil. Do this for 1 to 2 minutes. Add the onions and tomatoes and saute for 2 to 3 minutes till onions get translucent.

Add the olives and the cooked rice. Add the cooked corn kernels and cooked green beans. Mix all the ingredients together. Season with salt and black pepper.

Place the flaked tinapa on top of the rice combination. Sprinkle calamansi or lemon juice all over the rice-fish combination if desired. Garnish with sliced salted eggs.

Cook's comments: If tinapang bangus is not available, local neighborhood groceries which have huge inventories carry smoked fish in the seafood section. It may not be bangus (milkfish) but if it has the smoked flavors, then the results will be just as delightful for this recipe.

Recipe tips : I had leftover buttered vegetables of corn kernels and green beans so I added this to the dish, too. Feel free to add your own preferred chopped vegetables if desired.

Hello, Friends! Please DO NOT plagiarize, lift or copy verbatim my original recipes without my permission. All the images and content here are COPYRIGHT PROTECTED. This means BY LAW you are NOT allowed to use my photos or content on your website, videos, books, TV shows, media content  without my permission. If you want to republish this recipe, please re-write it in your own words and simply link back to this blog to give proper attribution. It's the legal thing to do. Email me at [email protected] Thank you.
Nutrition
Serving:
1
g
|
Calories:
712
kcal
|
Carbohydrates:
76
g
|
Protein:
8
g
|
Fat:
43
g
|
Saturated Fat:
34
g
|
Sodium:
1175
mg
|
Potassium:
538
mg
|
Fiber:
3
g
|
Sugar:
5
g
|
Vitamin A:
1516
IU
|
Vitamin C:
27
mg
|
Calcium:
53
mg
|
Iron:
1
mg
Notes on Nutrition: The nutrition data for this recipe includes the full amount of the marinade ingredients. The actual amount of the marinade consumed will vary. The nutrition information provided is an estimate and will vary based on cooking methods and specific brands of ingredients used.
Did you like this recipe? I have more classic recipes inspired by my late mother's cooking in my popular cookbook: My Mother's Philippine Recipes. If you're learning how to cook Filipino food or a fan of Philippine cuisine, buy my cookbooks and books on Amazon.com sold worldwide in paperback and Kindle format.
Copyright Notice: Hello, Friends! Please DO NOT LIFT OR PLAGIARIZE my original recipe, stories, photos or videos. All the images and content on this blog are COPYRIGHT PROTECTED and owned by my media company Besa-Quirino LLC. This means BY LAW you are NOT allowed to copy, scrape, lift, frame, plagiarize or use my photos, essays, stories and recipe content on your websites, books, films, television shows, videos, without my permission. If you wish to republish this recipe or content on media outlets mentioned above, please ASK MY PERMISSION, or re-write it in your own words and link back to my blog AsianInAmericaMag.com to give proper attribution. It is the legal thing to do. Thank you. Email me at [email protected]