Asian Pears Cinnamon Buns
As an Amazon Associate and member of other affiliate programs, I earn from qualifying purchases.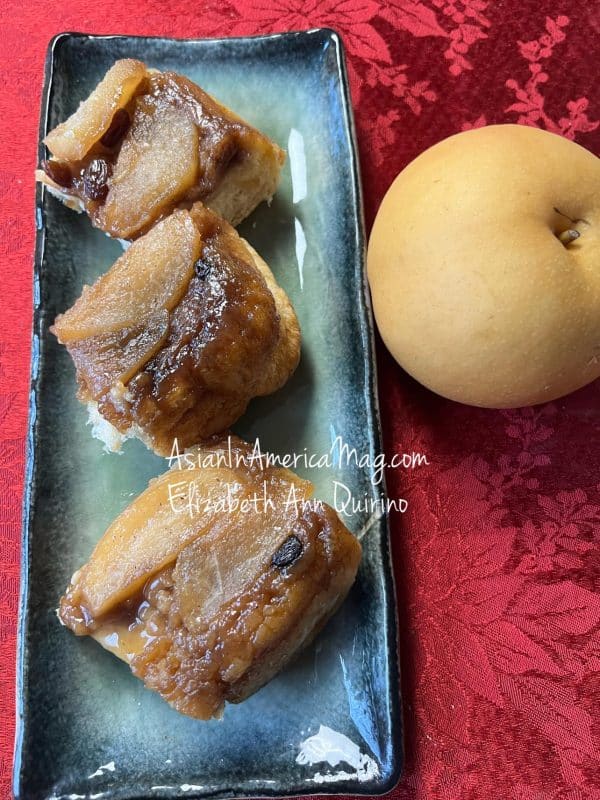 In the winter, I bake to keep warm, so, I made these Asian Pear Cinnamon Buns for our snacks and breakfast. I have baked cinnamon buns, often, as far back as my high school days when I was learning how to bake bread. In the Philippines, cinnamon buns are popular at bake shops or restaurants. I guess this is what motivated me to bake them at home, instead of buying.
This recipe is far easier and takes less time to make versus other breads I've baked. It took lesser steps to proof this dough, which was ideal. I love to bake bread and create something out of nothing. I make sure my flour, yeast, and rest of the ingredients are fresh or newly-purchased. You get the best results when everything is new.
I had a huge number of Asian pears, specifically Korean pears, which look like big, yellow apples. The slices are refreshing, sweet, and crisp. Eat them raw, or add them to cooking and baking. I've used Korean pears for making the Korean Galbijim, and it was a sweet addition. When baking, I follow the instructions to the letter. Baking is a science, and the results depend on precision and accuracy. With baking, you can't correct an earlier mistake.
When my baking pan came out of the oven, the aroma in the air smelled of sweet syrup and cinnamon. I took a small slice and tasted the top which was a gooey mix of melted brown sugar and butter. The thick slices of pears on top, added a luscious texture. The sugar-cinnamon filling had melted delightfully inside the spiral formation. This is what a wonderful holiday weekend is like: baking warm, freshly-baked Asian Pear Cinnamon Buns for those dear to us. One of the best ways I show comfort and reassurance is to cook, bake and share food. There is nothing as sweet and comforting as baking homemade sticky cinnamon buns…a recipe I've made over and over again when my kids were growing up, and will make again when my sons come home.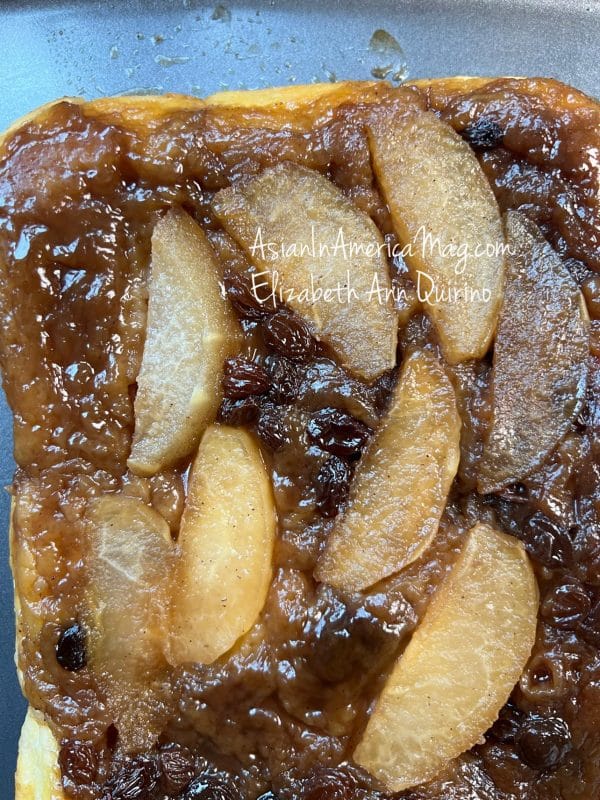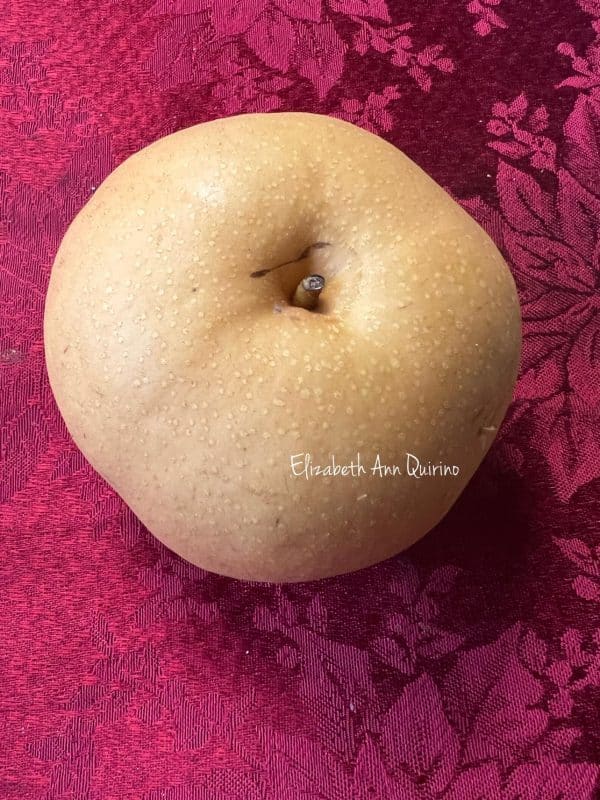 Asian Pears Cinnamon Buns
My Asian Pears Cinnamon Buns is a classic cinnamon rolls recipe with a sticky topping, and with the delightful addition of sliced Korean pears. This is one of the easier bread recipes I've used and relied on for years. I used fresh, ripe Korean pears. Serve this for breakfast, brunch, snacks or as a lunchbox treat. This blogpost is an Asian in America recipe by Elizabeth Ann Quirino. Makes 12 pieces.
Equipment
Kitchen aid - for kneading

Large mixing bowl

Baking Pan : 9 x 11 inches
Ingredients
For dough:
1

Tablespoon

yeast

1

Tablespoon

granulated sugar

½

cup

water, lukewarm temperature

½

cup

milk, lukewarm temperature

3

Tablespoons

unsalted butter or margarine, softened at room temperature

¼

cup

granulated sugar

1

teaspoon

salt

3

cups

all-purpose flour
For Filling:
½

cup

unsalted butter, softened at room temperature

½

cup

brown sugar

1

teaspoon

cinnamon powder

½

cup

raisins
For baking pan:
½

cup

brown sugar

½

cup

water

½

cup

melted butter, unsalted

1

whole

Asian pear, peeled, seeded, sliced
Instructions
To make the dough:
In a bowl, combine the yeast and sugar. Pour the water and milk. Mix well.

Cover and set aside in a warm place for 10 minutes.

The yeast mixture should have bubbles in it by this time.

Add the softened butter or margarine, the ¼ cup sugar, and salt. Mix together.

Using a stand mixer, gradually add the flour and combine well. (I add 1 cup of flour at a time).

When flour has been incorporated, knead the dough either using a Kitchen Aid mixer or by hand. Dough should result in a smooth, rubbery texture, with no trace of flour. It should be solid and not liquidy at all.

Be guided by this:

Kneading with Kitchen Aid = 10 to 12 minutes

or

Kneading by hand = 20 minutes

Grease a large bowl with oil or butter. Shape the dough into a large ball and place inside the bowl.

Cover with a cloth, and let rise for 45 minutes in a warm place.

After proofing the dough, check to see if dough has doubled in size.

Punch the dough in the center with your fist.

On a floured surface of the counter, using a rolling pin, roll out the dough into a

large, flat rectangular-shape.

Spread the softened butter all over.

In a small bowl, combine the filling mixture of brown sugar, cinnamon and raisins.

Sprinkle this mixture over the buttered dough.

Roll up the dough (away from you), like a long stick.

Once the filled dough is rolled up, using a sharp knife, slice the dough into 12 pieces, about 1-inch thick.

Set aside to put into the greased baking pans.
To prepare the baking pan:
In a small stockpot, combine the 1/2 cup brown sugar with 1/2 cup of water. Over medium-high heat, cook the syrup till it boils in about 5 minutes.

Remove from heat. Pour into the pre-greased baking pan. Add the melted butter.

Place the sliced Asian pears, leaving a space of 1 inch in between.

Place the cinnamon buns inside the baking pan which has the syrup mixture.

Lay the buns down, side by side. Do not overlap. Leave room for the buns to rise.
To bake the cinnamon buns:
Cover the buns with a cloth, and let rise for 1 hour, in a warm place.

After proofing, the buns should have doubled in size.

Preheat the oven at 350 F.

Uncover the risen buns. Bake at 350 F for 30 minutes.

To test for doneness, after 30 minutes, using a sharp knife, insert the tip in the space in between the buns. If knife comes clean, then cinnamon buns are done.
To serve:
When cinnamon buns are baked, remove from the oven. Cool on the counter for about 30 minutes.

Run a sharp knife around the sides of the baking pan to loosen the buns.

Turn the pan over on a serving platter. Slice individually and serve warm.
Cook's comments:
When baking this recipe, or bread in general, make sure the ingredients are lukewarm when added to the mixture, to ensure proper rising of the dough. Do not add ingredients which are cold and come straight from the refrigerator.

For best results when baking bread, always use fresh, newly-purchased flour, yeast and other ingredients indicated on the recipe.
Nutrition
Serving:
100
g
|
Calories:
668
kcal
|
Carbohydrates:
156
g
|
Protein:
11
g
|
Fat:
1
g
|
Saturated Fat:
1
g
|
Polyunsaturated Fat:
1
g
|
Monounsaturated Fat:
1
g
|
Sodium:
606
mg
|
Potassium:
335
mg
|
Fiber:
4
g
|
Sugar:
69
g
|
Vitamin A:
1
IU
|
Vitamin C:
1
mg
|
Calcium:
72
mg
|
Iron:
5
mg
Notes on Nutrition: The nutrition information provided in the recipe links is an estimate and will vary based on cooking methods and specific brands of ingredients used.
Copyright Notice: Hello, Friends! Please DO NOT LIFT OR PLAGIARIZE Asian in America recipes on this blog, my original recipes, stories, photos or videos. All the images and content on this blog are COPYRIGHT PROTECTED and owned by my media company Besa-Quirino LLC by Elizabeth Ann Quirino. This means BY LAW you are NOT allowed to copy, scrape, lift, frame, plagiarize or use my photos, essays, stories and recipe content on your websites, books, films, television shows, videos, without my permission. If you wish to republish this recipe or content on media outlets mentioned above, please ASK MY PERMISSION, or re-write it in your own words and link back to my blog AsianInAmericaMag.com to give proper attribution. It is the legal thing to do. Thank you. Email me at [email protected]