Ube-Purple Yam Pound Cake with Ube Frosting in a Swirly Pan
As an Amazon Associate and member of other affiliate programs, I earn from qualifying purchases.
[amazon_link asins='B0021CEREA,B075SY1M6Z,B075L2SC5N,B010TLTBDQ,B00P6EQGW6,B000VK2T0I,B072X8J3MS,B01MT18S1K' template='ProductCarousel' store='queensnotcom-20′ marketplace='US' link_id='ae4c9404-40e6-11e8-867b-a33b3fac2dad']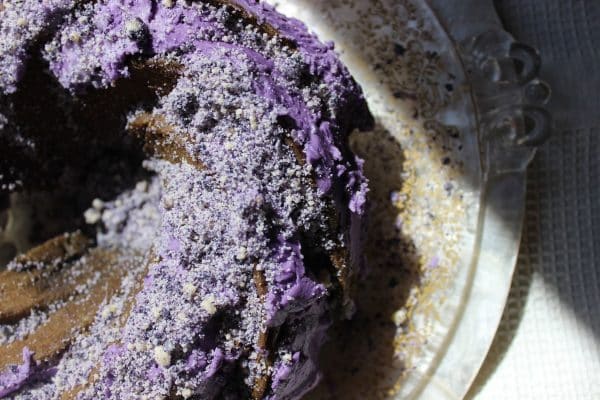 Five years ago, I signed up with the group Peoplehood of the Traveling Swirly Pan. Two weeks ago, the swirly Bundt pan whirled into my home and I baked this luscious, thick, dense and rich Filipino-inspired Ube-Purple Yam Pound Cake with Ube Frosting. What is the Peoplehood of the Traveling Swirly Pan all about? Founder Jenni Field a.k.a. the Pastry Chef Online described it best. Read more about it on her blog post from five years ago when she first baked in this beautiful Bundt Pan.
When I use a new baking pan or utensil, I bake a tried and true recipe or a baked treat that has earned a lot of good praise from friends and family. If you've never had anything with ube (purple yam) yet this pound cake is a good start. Ube or purple yam is a tuber that grows above ground. It grows abundantly in tropical countries like the Philippines and is in season during the last months of the year or early January. Desserts baked with ube come out sweet and fragrant with a mild almond-like aroma and flavor. Now that I live in America, I don't have access to fresh ube as often as we did in the Philippines. So, I resort to purchasing frozen boiled ube from Asian markets available almost year-round.
This pound cake was simple to put together like all pound cakes are. I was inspired by a sweet potato cake recipe from cookbook author Nancie McDermott. The beauty of this entire process was the swirly Bundt cake pan itself and watching the thick batter flow into the crevices, nooks and crannies. Even more gratifying was the knowledge that this cake pan had been shared and passed on from house to home of different bakers all over America, through Europe and even to Asia and now back again to my home in New Jersey. This cake pan was special. It has made many families happy.
United with all the 180+ members of the Peoplehood of the Traveling Swirly, this Ube-Purple Yam Pound Cake in a Swirly Pan brought much joy to our home and our table. I will miss seeing this swirly bundt cake pan as I send it off to the next baker on the list. But the cake pan has traveled many miles and served us well. The rich, thick, dense pound cake provided us with a sweet ending to our family meal. And like all desserts, proved that life is sweeter when food is shared with those you love.
Ube-Purple Yam Pound Cake with Ube Frosting
This Ube-Purple Yam Pound Cake with Ube Frosting is a regular Filipino dessert favorite in our home. This is not a light cake. It is a heavy pound cake which is rich, thick and dense in texture. The difference with this recipe is that I used a swirly Bundt cake pan, with numerous crevices and corners which made the cake even more beautiful. I frosted the cake with ube frosting between the nooks and crannies. Then at the end, sprinkled a combination of crumbled ube cake and homemade polvoron (Filipino powdered candy). A recipe for
polvoron
is in a past blog post –
click here
. This ube pound cake is an Asian in America recipe and was inspired by a previous blog post. Serves 6.
Equipment
Bundt cake pan or a 10 inch tube pan; Cake mixer
Ingredients
3 1/2

cups

all-purpose flour

2

teaspoons

baking powder

1/2

teaspoon

salt

1/2

cup

milk

2

teaspoons

McCormick's Ube Flavoring

1

cup

softened unsalted butter

at room temperature

1

cup

granulated sugar

1

cup

light brown sugar

4

whole

large eggs

2

cups

mashed boiled ube (purple yam)

or frozen (from Asian stores)

2 1/2

cups

powdered sugar

for frosting

1/8

cup

milk

for frosting

1

teaspoon

McCormick's Ube Flavoring

for frosting (from Asian stores or online sources)

1

teaspoon

almond extract flavoring

for frosting

2

whole

large polvoron (Filipino powdered candy)

crumbled, for frosting

1

Tablespoon

crumbs of ube cake

to sprinkle on frosting
Instructions
Thaw the frozen ube or purple yam at room temperature. The boiled yam must be mushy and not frozen. Place the frozen ube in a colander, some liquid may melt as it is thawed.

* Note: Do not microwave to defrost. Allow the frozen ube to thaw out naturally. Set ube aside.

Preheat oven at 350 F. Prepare and grease a 10-inch tube or Bundt pan.

In a medium-sized bowl, mix the flour, baking powder and salt. Mix well with a wire whisk. Set aside.

Separately, in a small bowl, mix together the milk and ube flavoring (bottled). Set this aside for use later.

In a large bowl, using a stand mixer, mix the butter and sugars on high speed till combined well.

Add the eggs, one at a time. Beat well after each egg is added.

To the egg and butter mixture, add the mashed ube. Mix this on low speed for 1 to 2 minutes. Make sure the batter is mixed well and the ube is distributed evenly.

Alternately add the flour mixture and the milk-ube flavor mixture into the batter. Begin and end with the flour mixture. Beat for about 5 minutes till the batter has a thick, smooth texture and is colored light lavender.

If cake pan has a removable bottom, place heavy duty aluminum foil underneath the removable bottom so the batter will not spill out while baking.

Pour the cake batter into a Bundt pan. Bake at 350 F for 1 hour and 15 minutes. Test the cake for doneness by inserting the tip of a sharp knife in the center of the baked cake. If knife comes out clean, cake is done.

When the cake is done, remove from the oven. Cool on counter for about 20 minutes by covering the cake with a cloth towel. When cake has cooled, invert on a cake rack and allow to cool thoroughly. Reserve some of the crumbled cake crumbs from the bottom for sprinkling on the frosting. Set aside.

How to make the ube frosting: using a hand mixer, mix on high the confectioners' or powdered sugar with the milk. Add the ube flavoring and almond extract. Continue beating for 3 minutes more or till ube icing is smooth. Let this icing cool in the refrigerator while the ube cake is on the cake rack.

How to frost the cake : using a clean, sharp knife, carefully slice a thin layer off the bottom of the cake to trim and scrape off any dark green cake parts. (Ube cake tends to come out dark green on the top and sides after it is baked). Spread the ube icing frosting with a spatula on the top of the cake. If using a swirly Bundt pan, spread frosting between the swirled crevices.If using a regular Bundt pan, spread frosting on top till smooth. In a small bowl, mix together crumbled ube cake crumbs and mashed polvoron powdered candy. Sprinkle all over the ube frosting on the cake. Slice and serve. Store this cake in the refrigerator.

*Hello, Friends! Please DO NOT LIFT OR PLAGIARIZE my original recipe. All the images and content on this blog are COPYRIGHT PROTECTED and owned by my media company Besa-Quirino LLC. This means BY LAW you are NOT allowed to copy, scrape, lift, frame, plagiarize or use my photos and  recipe content I wrote, on your website,books, films, television shows or videos  without my permission. If you want to republish this recipe or content on another website, video, news article,or media outlets mentioned above please ASK my permission, re-write it in your own words and simply link back to this blog to give proper attribution. It's the legal thing to do. Thank you. Email me at [email protected]

Disclosure: As a participant in the Amazon Affiliate program, some blog posts contain links to products used in the recipe and sold on Amazon. The price stays the same for the readers who wish to purchase these products on my links. I earn a small commission from Amazon which helps maintain the blog expenses. Thanks in advance for your support.
Nutrition
Serving:
1
g
|
Calories:
745
kcal
|
Carbohydrates:
177
g
|
Protein:
8
g
|
Fat:
2
g
|
Saturated Fat:
1
g
|
Cholesterol:
3
mg
|
Sodium:
219
mg
|
Potassium:
295
mg
|
Fiber:
2
g
|
Sugar:
119
g
|
Vitamin A:
33
IU
|
Calcium:
128
mg
|
Iron:
4
mg
Notes on Nutrition: The nutrition information provided is an estimate and will vary based on cooking methods and specific brands of ingredients used.
Did you like this recipe? I have more classic recipes inspired by my late mother's cooking in my popular cookbook: My Mother's Philippine Recipes. If you're learning how to cook Filipino food or a fan of Philippine cuisine, buy my cookbooks and books on Amazon.com sold worldwide in paperback and Kindle format.
Hello, Friends! Please DO NOT LIFT OR PLAGIARIZE my original recipe, stories, photos or videos. All the images and content on this blog are COPYRIGHT PROTECTED and owned by my media company Besa-Quirino LLC. This means BY LAW you are NOT allowed to copy, scrape, lift, frame, plagiarize or use my photos, essays, stories and recipe content on your websites, books, films, television shows, videos, without my permission. If you wish to republish this recipe or content on media outlets mentioned above, please ASK MY PERMISSION, or re-write it in your own words and link back to my blog AsianInAmericaMag.com to give proper attribution. It is the legal thing to do. Thank you. Email me at [email protected]