Champorado – Instant Pot + Stovetop
As an Amazon Associate and member of other affiliate programs, I earn from qualifying purchases.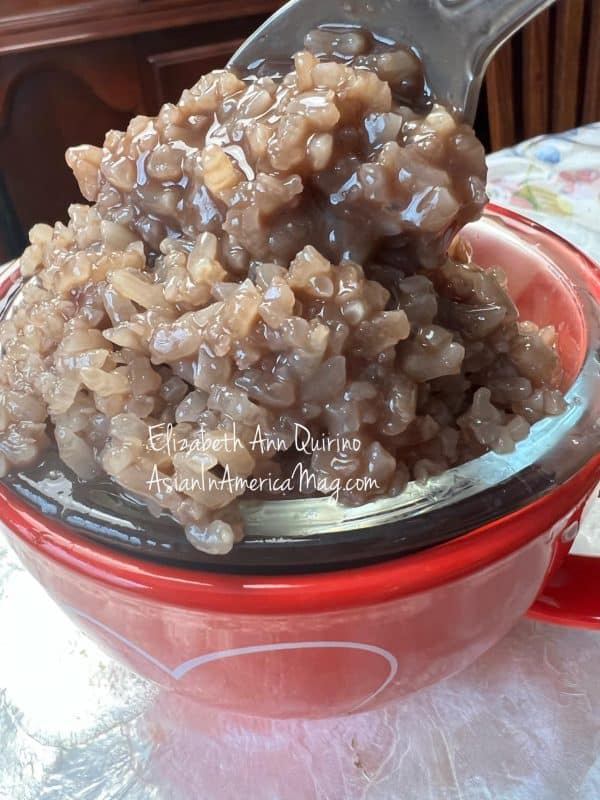 Champorado is a chocolate rice porridge known to Filipinos for its hearty, comforting flavors. It is usually served for breakfast, and is paired with savory dishes, like very salty tuyo (dried herring). Or it's just as delightful for merienda. It is one of the easiest treats to whip up when the family is hungry.
I make my Champorado with Philippine chocolate tablea, made from native cacao, that's shaped into solid balls or tablets, called "tablea". The chocolate tablea can also be made as a regular chocolate beverage and I've shared that in a past blog post.
Whenever family or friends from the Philippines came to visit, I delighted in the tablea they brought as pasalubong. Nowadays, the tablea is available at Asian groceries or online sources. It is a regular staple in my pantry. I have baked chocolate cakes with it, as well. You can cook this stovetop. But today, I made Champorado in the Instant Pot. In 15 minutes, the hefty porridge was cooked, and the chocolate aroma was floating around the kitchen. I poured the warm Champorado in individual bowls right away.
Nothing else fills the belly than a rice porridge with the sweet coconut flavors, blended with robust chocolate and sweetened with sugar. Sometimes, if desired, you can further thicken the Champorado chocolate porridge with condensed milk, like it's done in the Philippines. The sticky rice mixed with chocolate does exactly what rice porridge is supposed to…evoke lovely memories of cold months, and the coming holidays.
Champorado - Instant Pot + Stovetop
Champorado is a chocolate rice porridge popular among most Filipinos as breakfast fare, or at times, for merienda snacks. The sweet rice is cooked together with coconut milk, sugar, and chocolate tablea which are cacao discs made in the Philippines. I shared how to cook this easily in two alternate ways: either in the Instant Por or stovetop. This is a recipe from The Quirino Kitchen by Elizabeth Ann Quirino
Equipment
Instant Pot multicooker: 3, 6 or 8 quarts

Stockpot - medium-sized

for stovetop cooking
Ingredients
1

cup

sweet rice or sticky rice (malagkit)

3

cups

water

1

cup

coconut milk

1

cup

granulated sugar

4

tablets

Tablea chocolate discs

⅛

teaspoon

salt
Instructions
To cook Champorado in the Instant Pot:(option 1)
Wash rice well and drain liquid.

Put the rice in the inside pot of the Instant Pot.

Pour the water, and coconut milk. Add the sugar.

Chop the tablea discs coarsely and toss it together with the mixture.

Add the salt. Stir the uncooked rice mixture.

Close and lock the lid. Set the valve to Sealing.

Click on the Rice button and allow mixture to steam for 14 minutes.

When timer buzzes to indicate cooking is done, slowly do a Natural Release (let steam come down on its own).

Carefully unlock the cover and place on a safe, dry counter.

With a long cooking spoon or ladle, stir the Champorado mixture. Ladle into individual bowls. Serve warm.
To cook Champorado stovetop (option 2):
Wash rice and drain liquid. Place rice in a medium-sized stockpot.

Pour water. Cover and cook rice over high heat for 8 to 10 minutes. When it boils, lower heat to medium. Stir to prevent rice from sticking to bottom.

When rice is cooked, add sugar, salt and coarsely chopped tablea.

When chocolate has melted, pour the coconut milk. Continue cooking on low heat for 5 minutes more. Make sure rice is cooked completely.

Serve warm in individual bowls.
Cook's comments:
The Filipino Tablea package I bought from the Asian grocery contained a pack of 10 cacao tablets, with a total net weight of 7.05 ounces or 200 g. You can find these at Asian markets or online sources like Amazon here in the USA. In the Philippines, tablea are widely available in supermarkets, department stores or artisan food bazaars.
Ingredient Substitute:
If chocolate tablea is not available, you can substitute 1/4 cup powdered chocolate drink like Milo or Ovaltine. I have tried this and it is just as scrumptious.
Nutrition
Serving:
100
grams
|
Calories:
608
kcal
|
Carbohydrates:
103
g
|
Protein:
2
g
|
Fat:
24
g
|
Saturated Fat:
21
g
|
Polyunsaturated Fat:
0.3
g
|
Monounsaturated Fat:
1
g
|
Sodium:
179
mg
|
Potassium:
251
mg
|
Sugar:
100
g
|
Vitamin C:
1
mg
|
Calcium:
32
mg
|
Iron:
4
mg
Notes on Nutrition: The nutrition information provided in the recipe links is an estimate and will vary based on cooking methods and specific brands of ingredients used.
Copyright Notice: Hello, Friends! Please DO NOT LIFT OR PLAGIARIZE Asian in America recipes on this blog, my original recipes, stories, photos or videos. All the images and content on this blog are COPYRIGHT PROTECTED and owned by my media company Besa-Quirino LLC by Elizabeth Ann Quirino. This means BY LAW you are NOT allowed to copy, scrape, lift, frame, plagiarize or use my photos, essays, stories and recipe content on your websites, books, films, television shows, videos, without my permission. If you wish to republish this recipe or content on media outlets mentioned above, please ASK MY PERMISSION, or re-write it in your own words and link back to my blog TheQuirinoKitchen.com to give proper attribution. It is the legal thing to do. Thank you. Email me at [email protected]