Instant Pot Pasta Alfredo Primavera
As an Amazon Associate and member of other affiliate programs, I earn from qualifying purchases.
[amazon_link asins='B00CIWTL44,B01MFEBQH1,B075938H7S,1624145000,B011B8M2GO,B0015MIZ3Q' template='ProductCarousel' store='queensnotcom-20′ marketplace='US' link_id='78628cd6-1e63-11e8-ade4-0361bbeca03f']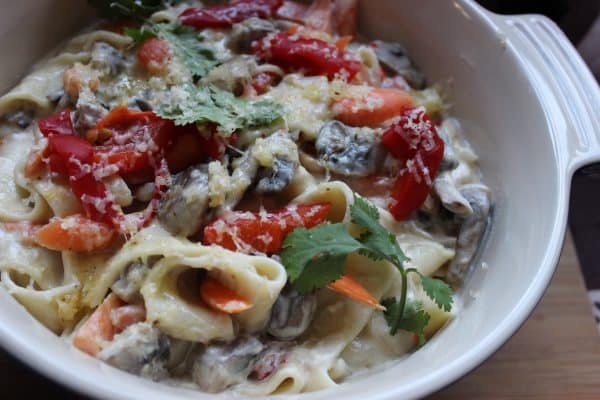 The night before a snow storm, I cooked several dishes like this Instant Pot Pasta Alfredo Primavera, as a precaution in case of power outages. When the fierce winter nor'easter descended on us here on the east coast the day after, I was relieved I cooked up a storm, literally. We experienced intermittent power outages all day which made it impossible to cook anything for a straight hour. One of those meals I cooked was this Pasta Alfredo Primavera from a recipe of the cookbook Weeknight Cooking with your Instant Pot by Kristy Bernardo. Thank goodness for culinary friends like Kristy who send me their new cookbooks to try out. Her cookbook was a lifesaver because it opened my eyes to more recipes I could cook with my multi-cooker, the Instant Pot.
As Kristy said, "Before the advent of the Instant Pot, busy home cooks would save their favorite long-cooked, richly flavored comfort foods for the weekend, never the weekdays when getting dinner on the table was a race against the clock." Tell me about it. I raised two sons who were always hungry amidst my busy schedule as a working wife and mom. The panic, stressful hours were always between 4 o'clock in the afternoon till dinner time. Like most mothers, I had to balance my time between cooking, overseeing homework and driving the boys to after-school activities. How I got dinner ready back then, with no Instant Pot was hard to imagine, now that I think about it.
But back to this pasta dish which I cooked in under 35 minutes. Kristy's instructions in the cookbook were straightforward and easy to follow. Like most of her recipes, the instructions for this one came with a beautiful photograph which was helpful. I didn't know till then I could cook pasta and the sauce altogether in the multi-cooker and it would come out scrumptious in no time at all. In the original recipe, the author used penne pasta. I used pappardelle instead because it was what I had. The Instant Pot's sauté button cooked the sauce with the button mushrooms, and afterwards the High-Pressure buttons cooked the pasta, the broth and vegetables in minutes.
Before long, I was mixing and twirling the long, wide, thick pappardelle pasta into the rich, creamy sauce. The savory, earthy aromas of the cooked mushrooms floated out of the Instant Pot after I took off the cover. I couldn't believe such a heartwarming meal conveniently cooked in half the time it would have taken me to do it the classic way on the stove. The heavy snow was coming down hard as I peeked outside my kitchen window. The wind was roaring outside, swaying our tall, sturdy trees precariously in the storm. I knew then, no matter how long the power outage took, we were going to be fine. We had good, cooked food around to tide us over till the skies cleared again.
Instant Pot Pasta Alfredo Primavera
This Instant Pot Pasta Alfredo Primavera was cooked in under 35 minutes in my multi-cooker. The original recipe uses penne, but I chose pappardelle. The rich, thick creamy sauce combined with the sliced button mushrooms, made for a very appealing and hard-to-resist pasta meal. This recipe was inspired by the cookbook Weeknight Cooking with your Instant Pot (Page Street Publishing Co.) by Kristy Bernardo. The recipe I cooked below serves 2 to 4.
Equipment
Instant Pot multicooker - 6 quarts or 8 quarts.
Ingredients
2

teaspoons

extra virgin olive oil

1

Tablespoon

butter

unsalted

1

whole

white onion

sliced

1

pound

454 g. sliced button mushrooms

2

cloves

garlic

peeled, minced

1

whole

red bell pepper

seeded, sliced

1

whole

large carrot

peeled, sliced

1/2

pound

pappardelle pasta

(or use any pasta preferred)

6 to 8

cups

organic chicken broth

1

cup

heavy cream

4

ounces (half of the block)

Philadelphia cream cheese

cut up in cubes

1 to 1 1/2

cups

freshly-grated Parmesan cheese

1/2

teaspoon

salt

1

teaspoon

ground black pepper

1 to 2

sprigs

fresh parsley

chopped, for garnish

for serving: garlic bread
Instructions
Using the multi-cooker Instant Pot, press the 'Sauté' button on the keypad. It takes about 2 minutes for the instant pot to heat up for this function.

Then you will see the word "Hot" appear on the digital display. At this time, add the olive oil, butter, onions and mushrooms. Stir and sauté for about 5 minutes till mushrooms are soft and onions are translucent.

Add the minced garlic to the onion-mushrooms mixture. Continue sautéing for 2 to 3 minutes more till aromas of the garlic-onions and mushrooms emit from the mixture.

Add the sliced bell peppers and carrots into the mushroom mixture in the pot. Then add the pasta and pour the broth. The liquid should be enough to cover the pasta. Close the lid. Lock the lid of the Instant Pot. Press the "Manual" setting. Adjust the timer to "6 minutes" on High Pressure.

*Note on the Instant Pot: It takes about 15 to 18 minutes for the High Pressure to heat up and go from the "On" reading on the display to actual start of the cooking time. But you can walk away from the Instant Pot and let it cook for you, till the alarm tells you cooking is done.

Be sure to check if cooking pressure is on "High" and the release valve is set to "Sealing".

When the alarm signals that time is up, open the Instant Pot by doing a "Quick Release". Using a large cooking spoon, stir the pasta and ingredients together to combine.

Use oven mitts to take out the inner pot. Drain the pasta with ingredients in a colander. Save about one cup of pasta liquid for later if meal gets dry or needs reheating. Set aside.

Return the pot back in the Instant Pot. Press the "Sauté" setting. When the pot heats up in about 1 to 2 minutes, add the cream and the cream cheese chunks. Pour about ¼ cup of the pasta water over the cream cheese.

Using a wooden spoon or whisk, mix and blend the cream cheese till it incorporates into the liquid and becomes smooth. Add the parmesan cheese, salt and pepper. Keep stirring while adding.

As soon as the sauce starts to bubble, put the pasta and vegetables mixture back into the pot over the cream sauce. Combine all the ingredients together till sauce coats the pasta.

Arrange on a large pasta serving bowl. Sprinkle with more freshly-grated cheese and garnish with a sprig of fresh parsley. Serve warm with garlic bread.

Cook's comments: if you do not own a multi-cooker like the Instant Pot, this recipe is doable cooked stove top. Cook pasta according to directions on the box or package. Sauté the sauce and ingredients indicated in a large skillet and add the cooked pasta. Season to taste. Feel free to use other types of pasta preferred.

About the Author and the Cookbook:

Kristy Bernardo, from Ashburn, Virginia, is the founder of the blog

The Wicked Noodle

. She teaches cooking classes, speaks at conferences and appears on television. In her new cookbook

Weeknight Cooking with your Instant Pot

, Kristy shares 75 recipes which cover all bases from soups, appetizers, main dishes, sides to desserts. The cookbook is available where most books are sold. I have a link to purchase this cookbook via my Amazon affiliate links above the blog post, for my readers' convenience.

Disclosure: I was not paid to review or feature this cookbook, which was a gift from the author. I was not paid to use or mention the Instant Pot multi-cooker. My views and opinions are my own. But I will gladly recommend this cookbook to fans of the multi-cooker Instant Pot and who are in search of new, easy recipes for any day of the week.

*Hello, Friends! Please DO NOT LIFT OR PLAGIARIZE my original recipe. All the images and content on this blog are COPYRIGHT PROTECTED and owned by my media company Besa-Quirino LLC. This means BY LAW you are NOT allowed to copy, scrape, lift, frame, plagiarize or use my photos and  recipe content I wrote, on your website,books, films, television shows or videos  without my permission. If you want to republish this recipe or content on another website, video, news article,or media outlets mentioned above please ASK my permission, re-write it in your own words and simply link back to this blog to give proper attribution. It's the legal thing to do. Thank you. Email me at [email protected]
Nutrition
Serving:
1
g
|
Calories:
252
kcal
|
Carbohydrates:
3
g
|
Protein:
1
g
|
Fat:
27
g
|
Saturated Fat:
16
g
|
Cholesterol:
89
mg
|
Sodium:
339
mg
|
Potassium:
45
mg
|
Fiber:
1
g
|
Sugar:
1
g
|
Vitamin A:
983
IU
|
Vitamin C:
1
mg
|
Calcium:
41
mg
|
Iron:
1
mg
Nutrition Notes: The nutrition information provided is an estimate and will vary based on cooking methods and brands of ingredients used.
Did you like this recipe? I have more Filipino Instant Pot recipes in my newest cookbook Instant Filipino Recipes: My Mother's Traditional Philippine Cooking in A Multicooker Pot by Elizabeth Ann Besa-Quirino. Buy my cookbooks and books on Amazon.com – sold worldwide in paperback and Kindle format.
Disclosure: Instant Pot is a registered trademark of the Instant Pot Company which is not associated with this blog. I was not paid to review or endorse the brand and products used.