Guinataang Pusong Saging – Banana Blossoms in Coconut
As an Amazon Associate and member of other affiliate programs, I earn from qualifying purchases.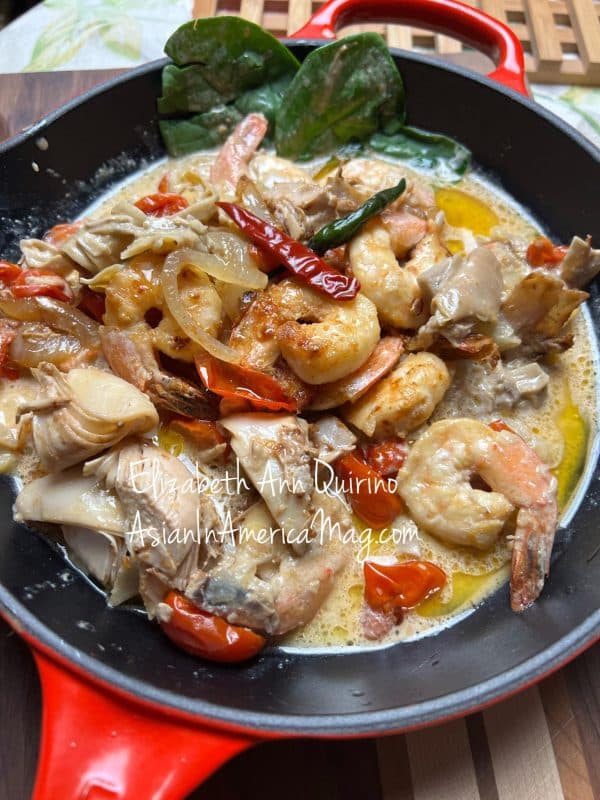 Cooking with coconut does something magical to a dish, like when I made Guinataang Pusong Saging – Banana Blossoms in Coconut. I was craving for pusong saging (banana blossoms), the way my Mom cooked it with coconut (guinataang), back in my childhood in Tarlac. She used fresh banana blossoms from the trees growing in our backyard, which I didn't have in my New Jersey home.
We don't have banana trees in suburban America on the east coast, so I opted for canned banana blossoms, a suggestion from my cousin Susan, who inspired my post on Kilawin Pusong Saging. Fresh banana blossoms are part of a fruit tree. The blossoms are then cooked, and served as a vegetable. Pusong Saging (puso translates to heart) is found at the center of a tree. When it is raw, the outer leaves of pusong saging are dark purple-colored. It has the stiff texture of corn husks. It is the inner white-colored leaves that are thinner, and when cooked, softens up to the likeness of artichokes.
After washing the canned banana blossoms in water, I sauteed them in garlic, onions, and ginger. Other recipes use pork for the sauté. I had large, fresh shrimps, so I added that instead. It is best to pour the coconut milk in the end when the shrimps and vegetables are soft and cooked completely.
There is nothing like the sultry aroma of sweet coconut milk, that adds a tropical, earthy flavor to this dish. The pristine white thick milk takes on a golden hue because of the sauteed tomatoes. And the sauce reaches a thick consistency, as it slightly reduces while simmering. This is the kind of recipe that's handy to have, to reach for, and cook some easy magic any day of the week.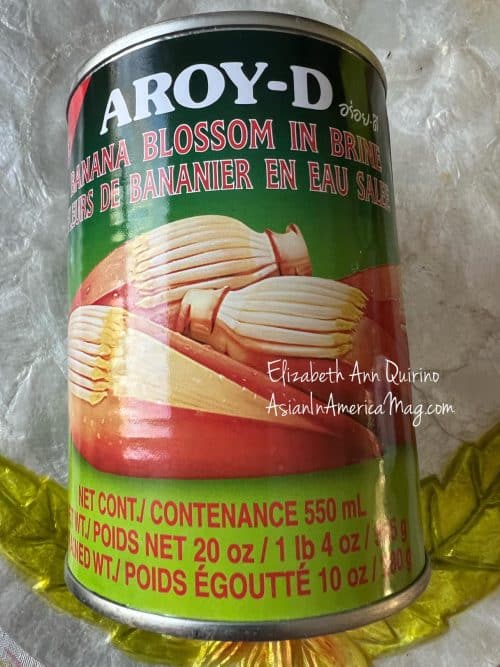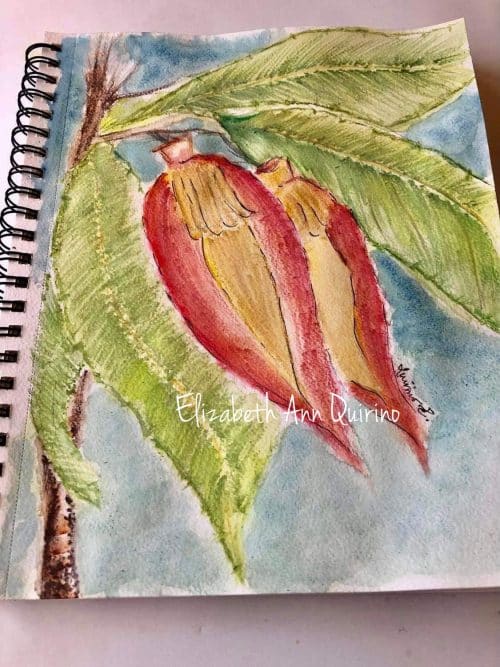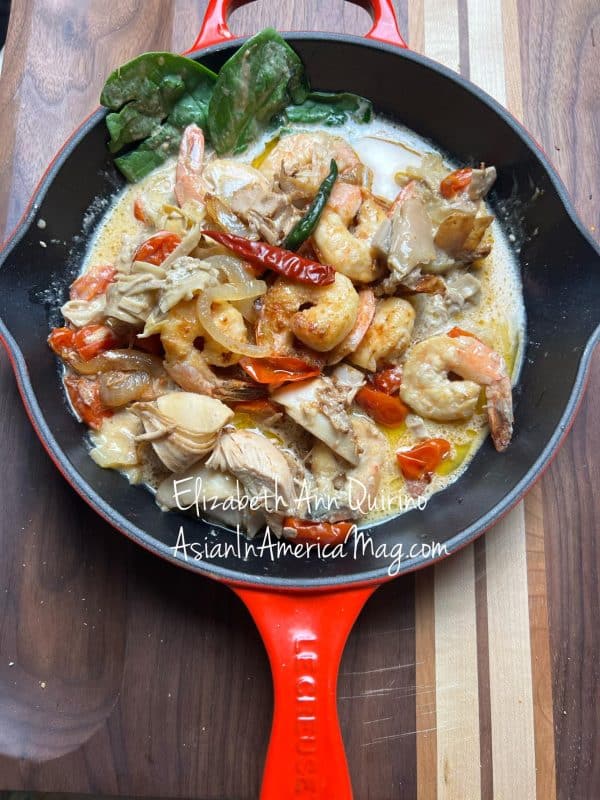 Guinataang Pusong Saging - Banana Blossoms in Coconut
Guinataang Pusong Saging - Banana Blossoms in Coconut is a classic Filipino sauteed dish. Puso translates to 'heart', and this blossom is found at the center of the banana tree. This is a large, thick blossom, about 10 inches in length, which comes from a fruit tree, but is cooked and served as a vegetable dish. The addition of coconut milk to this saute cooked with shrimps, adds a delightful, sweet and earthy flavor. This is an Asian in America recipe by Elizabeth Ann Quirino.
Equipment
1 Skillet or Wok - large,

12 inches in diameter
Ingredients
1

can (20 oz)

banana blossoms, drained, washed, sliced

2

Tablespoons

vegetable oil

2

cloves

garlic, peeled, minced

1

whole

white or yellow onion, chopped

1

knob (1/2 inch piece)

fresh ginger, peeled, julienne slices

500

grams

fresh shrimps, peeled, tails and heads removed

1

Tablespoon

patis (fish sauce)

1

cup

cherry tomatoes, sliced in halves;

or use 1 large tomato, chopped

½

cup

broth, chicken or vegetable

1

can (13.5 fl oz)

coconut milk

½

teaspoon

salt

½

teaspoon

ground black pepper

1 to 2

pieces

siling labuyo (bird's eye chilies), sliced;

optional
Instructions
To prepare canned banana blossoms:
Drain and discard the liquid.

Run the banana blossoms through cold running water for 1 minute.

Dry the blossoms with paper towels. Slice into strips, about 2-inch length.

Set aside.
To saute the Guinataang Pusong Saging - Banana Blossoms in Coconut:
In a skillet, over medium heat, add the oil. When oil is hot enough after about 2 minutes, saute the garlic, onions, and ginger. Saute till soft for about 2 minutes.

Add the shrimps. Pour the patis (fish sauce). Stir around to incorporate.

Add the tomatoes. Pour the broth. Cover and cook till the shrimps turn from grey to pink, for about 6 to 8 minutes.

To the skillet, add the sliced pusong saging.

Pour the coconut milk. Season with salt, and pepper.

If desired, add the sliced siling labuyo (bird's eye chilies). Blend ingredients.

Cover and continue cooking for 5 minutes more over low heat. Do not let the pan get too hot, or the coconut milk will curdle or burn.

Serve warm with steamed rice.
How to prepare fresh pusong saging or banana blossom (alternative use):
If you have access to fresh pusong saging from the banana trees, here's how to prepare the blossom, according to Chef Romy Dorotan of Purple Yam NYC and Malate (from Memories of Philippine Kitchen Cookbook):

Fill a bowl with 3 cups water and 1 tablespoon salt.

Peel the outer layers of the banana heart (the purple leaves) till you reach the pale-colored middle part of the heart. Cut the heart into 6 to 8 sections and place in the water.

Massage the pieces with your hands for 3 minutes to remove the bitter sap.

Discard the soapy-looking liquid that emerges.

Drain in a strainer, rinse in water, and repeat the process.

At this stage, if the bitterness has been removed, slice the blossom into strips and saute as directed above. Use in place of canned banana blossoms.
Cook's comments:
Sometimes, I find fresh pusong saging (banana blossoms) at the Asian markets here in America. The price range can be expensive and I am not certain if the blossom is newly-picked. The older, fresh blossoms can be stiff and take longer to cook.

If you prefer a non-spicy dish, you can omit the siling labuyo (bird's eye chilies) from the recipe.

Refrigerate any leftovers of this dish, or for that matter, any dish cooked with coconut.
Nutrition
Serving:
100
g
|
Calories:
2
kcal
|
Carbohydrates:
1
g
|
Protein:
1
g
|
Fat:
1
g
|
Saturated Fat:
1
g
|
Polyunsaturated Fat:
1
g
|
Monounsaturated Fat:
1
g
|
Sodium:
582
mg
|
Potassium:
8
mg
|
Fiber:
1
g
|
Sugar:
1
g
|
Vitamin A:
3
IU
|
Vitamin C:
1
mg
|
Calcium:
3
mg
|
Iron:
1
mg
Notes on Nutrition: The nutrition information provided in the recipe links is an estimate and will vary based on cooking methods and specific brands of ingredients used.
Copyright Notice: Hello, Friends! Please DO NOT LIFT OR PLAGIARIZE Asian in America recipes on this blog, my original recipes, stories, photos or videos. All the images and content on this blog are COPYRIGHT PROTECTED and owned by my media company Besa-Quirino LLC by Elizabeth Ann Quirino. This means BY LAW you are NOT allowed to copy, scrape, lift, frame, plagiarize or use my photos, essays, stories and recipe content on your websites, books, films, television shows, videos, without my permission. If you wish to republish this recipe or content on media outlets mentioned above, please ASK MY PERMISSION, or re-write it in your own words and link back to my blog AsianInAmericaMag.com to give proper attribution. It is the legal thing to do. Thank you. Email me at [email protected]