Easy No-Bake Strawberry Pie
As an Amazon Associate and member of other affiliate programs, I earn from qualifying purchases.
I looked at the bowl of strawberries and debated with myself if I should make jam or pie and ended up making an Easy No-Bake Strawberry Pie. I went crazy at the markets. Strawberries are in season from April to August and are the sweetest then. But they are also available year round these days. I could not resist when I saw they were on sale.
I made jam and put them in mason jars hoping to save the sweetness for the winter months. The homemade jam was divine with freshly baked Pan de Sal, the Filipino bun and thus our winter jam supply dwindled even before summer ended here on the east coast.
I had two pounds left. It was sweltering hot in the kitchen so I did not want to spend hours cooking. I searched for a no-bake pie from the cookbook of trusted friend, Nancie McDermott, prolific author.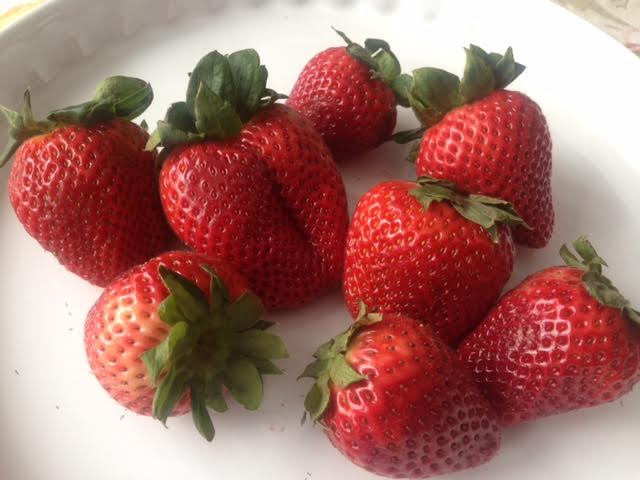 Crushing the graham crackers into coarse crumbs and adding the melted butter was a cinch. I weakened when I sniffed at the golden drops of butter as it disappeared through the cinnamon-like grahams.
The bright red strawberries were quick to thicken into a jam-like consistency when I added the cornstarch. As I folded the sweet, thick berry mixture into the white billows of cream, I knew this pie was going to be devoured by my family.
It is the little things that give me a reason to pause and be grateful. Like a bowl of ripe red, plump fresh strawberries. The fruity aroma is enough to remind me what a beautiful fruit it is and I was glad to find a way to preserve it.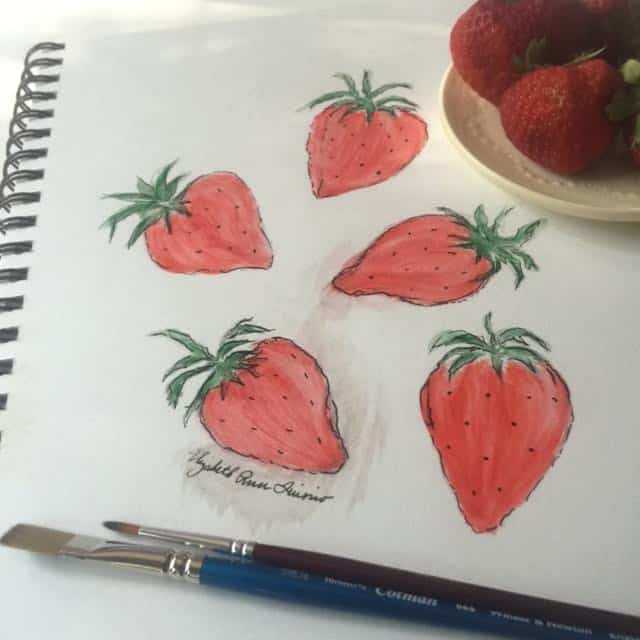 In our day to day lives, it is easy to ignore the mundane stuff that is actually marvelous. Once September comes around, I am always reminded of these on 9/11, that fateful day when the world changed forever.
And recently, a serious car accident of a dear family member had us overwhelmed, anxious and worried. It made us realize that our lives are fragile and can change drastically in a swift second.
Eat that bowl of fruit now. Bake the pie. Relish the pie and come back for seconds. Use the good china and the fine silver for a big slice. Pop open the champagne you've been saving for a special occasion. The right time to enjoy what matters is now.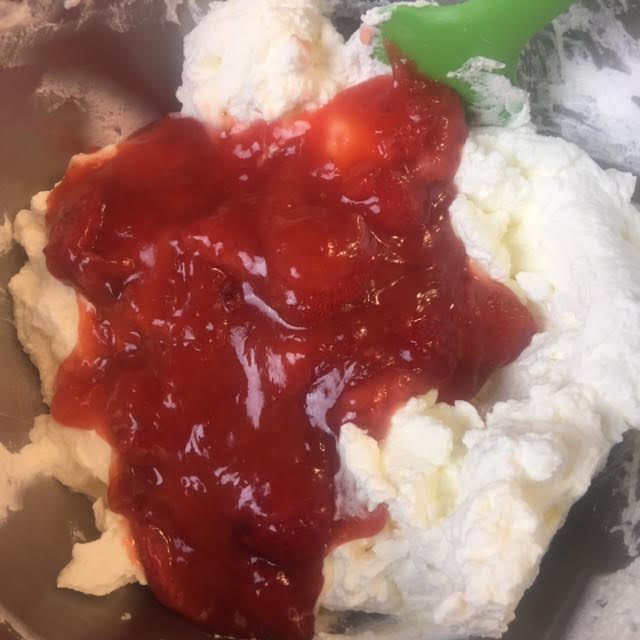 From your heart, send out a rush of gratitude to those you love. Open yourself to insights and awareness of things around you. Coax your soul to help you appreciate more the gifts you are blessed with every day.
Close your eyes. Put your hand over your heart. Put down the mobile devices. Unplug from social media. Focus on what is important right now.
We simply need to recalibrate our ability to tune into joy as it flits unobtrusively around our hearts. As cliché as it sounds, let us find joy in our daily routines and be grateful we have the abilities, the strength, the capacity to keep doing what we do. Daily joy sits patiently on the window sill of our lives, waiting for us to recognize it.
Relish this pie. It's indescribably a joy to make, to enjoy and to share with those you love.
Easy No-Bake Strawberry Pie
Here's what this Easy No-Bake Strawberry Pie is: "This cool light pink pie couldn't be much simpler nor much more lovely on a hot summer evening," said Nancie McDermott  when she described this pie she called a Strawberry Icebox Pie. Whether strawberries are in season from spring to late summer or available all year round, this is a luscious, elegant dessert to make when you don't want to bake. The crisp graham cracker crumbs make up the crust, a great contrast to the silky, luscious creamy strawberry pie. This recipe was inspired by author Nancie McDermott from her cookbook "Southern Pies" (Chronicle Books). Serves 4 to 6 for dessert.
Ingredients
1 1/4

cup

graham cracker crumbs

about one sleeve, 9 crackers

2

Tablespoons

granulated sugar, for pie crust

1/3

cup

unsalted melted butter

for crust

1/3

cup

cornstarch, for strawberries

4

cups

fresh strawberries (or use frozen)

hulled, sliced in halves

1

cup

granulated sugar, for pie filling;

1/8

teaspoon

fine salt

2

teaspoons

butter

unsalted

1/2

teaspoon

vanilla extract

1 1/4

cups

heavy cream

1/2 to 1

cup

strawberries

hulled, sliced in halves, for garnish
Instructions
To make the graham cracker crust: In a medium-sized bowl combine together the graham cracker crumbs, 2 tablespoons sugar and melted butter. Press the crumbs against the bottom of a 9-inch pie plate. If desired bake at 350 F for 8 to 10 minutes. Cool completely on counter. (*Note: when I made this pie, there was a heat wave so I decided not to pre-bake the crust and instead put it in the freezer for 30 minutes to firm up. Set aside till ready to fill with pie filling).

Prepare the strawberries: In a medium-sized bowl mix together the cornstarch and 1/3 cup water. Stir well till there are no more lumps. Put this aside. Using a medium saucepan, combine the strawberries, 1 cup sugar and salt. Stir and cook till mixture boils in about 5 minutes. Stir and add the cornstarch mix to thicken the sauce. Continue cooking for 3 to 4 minutes more till the strawberries and syrup thicken. Remove from heat. Add the butter and vanilla. Cool on counter till berries are room temperature.

Using a stand mixer, beat the heavy cream till thick and peaks form and the cream looks like clouds.

Slowly fold in the strawberry and syrup mixture which has cooled to room temperature. Use a wide spatula to gently fold in the berries to the cream. You do not want the light, high peaks of the cream to collapse to a flat liquid.

Gently pile the filling into the graham cracker pie crust. Garnish with fresh strawberries on top. Cover with plastic wrap and refrigerate for at least 4 hours or overnight. Keep refrigerated till ready to serve. Pie should always be chilled.

Hello, Friends! All the images and content here are COPYRIGHT PROTECTED. This means BY LAW you are NOT allowed to use my photos or content on your website  without my permission. If you want to republish this recipe, please re-write it in your own words and simply link back to this blog to give proper attribution. It's the legal thing to do. Thank you. Email me at [email protected]
Nutrition
Serving:
1
g
|
Calories:
434
kcal
|
Carbohydrates:
33
g
|
Protein:
4
g
|
Fat:
32
g
|
Saturated Fat:
19
g
|
Cholesterol:
107
mg
|
Sodium:
293
mg
|
Potassium:
130
mg
|
Fiber:
1
g
|
Sugar:
7
g
|
Vitamin A:
1156
IU
|
Vitamin C:
11
mg
|
Calcium:
72
mg
|
Iron:
1
mg
Nutrition Notes: The nutrition information is an estimate and will vary based on cooking methods and brands of ingredients used.
Did you like this recipe? I have more classic recipes inspired by my late mother's cooking in my popular cookbook: My Mother's Philippine Recipes. If you're learning how to cook Filipino food or a fan of Philippine cuisine, buy my cookbooks and books on Amazon.com sold worldwide in paperback and Kindle format.
Hello, Friends! Please DO NOT LIFT OR PLAGIARIZE my original recipe, stories, photos or videos. All the images and content on this blog are COPYRIGHT PROTECTED and owned by my media company Besa-Quirino LLC. This means BY LAW you are NOT allowed to copy, scrape, lift, frame, plagiarize or use my photos, essays, stories and recipe content on your websites, books, films, television shows, videos, without my permission. If you wish to republish this recipe or content on media outlets mentioned above, please ASK MY PERMISSION, or re-write it in your own words and link back to my blog AsianInAmericaMag.com to give proper attribution. It is the legal thing to do. Thank you. Email me at [email protected]