Pancit Bihon with Shrimps
As an Amazon Associate and member of other affiliate programs, I earn from qualifying purchases.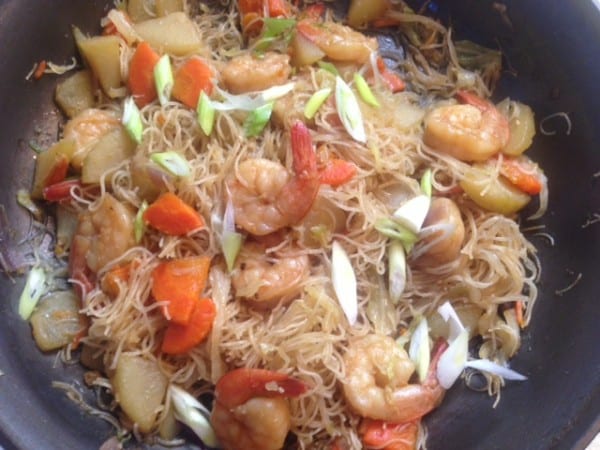 The first meal I cooked when we got home was Pancit Bihon with Shrimps. But first, let me tell you, that from our doorstep in New Jersey, it took a 20-hour flight to the Philippines, two days, ten hours of driving to reach our destination. We arrived in Vigan, Ilocos Sur at 1 o'clock PM, on a hot, sultry afternoon. Vigan City in Ilocos Sur province is north of Manila. It is approximately 405 kilometers in distance. Estimated driving time is about ten hours, depending on road, weather and traffic conditions.
My husband and I plus our younger son arrived in Vigan just in time for the commemorative events of the President Elpidio Quirino 125th birth anniversary.
It was interesting to come back to my husband's family roots. Since our last trip to this province, Vigan had been named a UNESCO World Heritage City.
Vigan's large old houses that go back centuries, the cobblestoned narrow alleys, the horse-drawn "calesas" juxtaposed with modern day tricycles buzzing around a busy city.
Our family was honored to be part of the events on Nov. 16th, the birth anniversary of Lolo Elpidio. The day started early for us with a 7AM mass in Caoayan, the town where Mariano Quirino and wife Gregoria Rivera lived with their children, among them, a young Elpidio.
The day got busier by the hour as the sun scorched us. We were all dressed in Filipiniana outfits for the occasion. We went from one event to the next and rolled with it. There were wreath layings, bands playing, parades, a concelebrated mass at the cathedral, museum openings, speeches, a flash mob dance at the plaza, an evening musical, countless photos and selfies, food laid out for us and so much more. My favorite part of the event was getting reconnected with cousins, aunts, uncles, nephews, nieces. At the end of the day, it was all about family. And that felt wonderful.
After a few days in Vigan, we drove by car for five hours back to Tarlac, our hometown. There wasn't enough time to do all we wanted to do. Before we knew it, it was time to head back to Manila for last minute shopping before flying back to the States.
Our journey back was just as long, our suitcases were heavier with goodies and stuff we bought in the Philippines.
Images of President Elpidio Quirino's wreath laying in Caoayan town and the streets of Vigan City, Ilocos Sur plus Hotel Luna (below) where we stayed.
As soon as we got off the plane and walked out the of the airport we felt the blast of cold wind on our cheeks. From Vigan's 100+ F degree temperature, we got home to New Jersey to a chilly 30 F degree day.
The first meal I cooked when we got home was this Pancit Bihon made of dry rice noodles, thin and somewhat translucent. It was stir fried with shrimps and vegetables. The beauty of a pancit dish is that you can cook it with leftovers and that's just what I did. Different pancit dry noodles are staples in my pantry. I sent my son to the grocery for milk and asked him to buy a pound of fresh shrimps. I had vegetables left in the bin which stayed chilled the whole time we were gone.
When I saw the garlic and onions sizzle in the skillet, the savory Asian aromas reminded me we were home.
Pancit Bihon with Shrimps
Pancit Bihon with Shrimps is an easy Filipino stir-fried noodle dish. The best thing about stir fry dishes like the Philippine pancit is that you can cook it with any type of vegetables in season and fill it up with either meat slices or fresh shrimps. This was inspired by a recipe from
The Asian Grandmothers Cookbook
by Pat Tanumihardja. Serves 2 to 4.
Ingredients
16

ounces

dried bihon noodles,

about 2 and 1/2 cups (from Asian markets, look for a Filipino brand) pancit bihon or dried rice vermicelli noodles

2

teaspoons

vegetable oil

2

cloves

garlic

peeled, chopped

1

whole

medium-sized white or yellow onion,

chopped

2

stalks

celery

chopped

1

pound

fresh shrimps,

peeled, deveined, tails removed

1

cup

chicken broth

1

whole

sayote (chayote)

peeled, sliced, seeds removed

1

whole

medium -sized carrot

peeled, sliced

2

cups

sliced cabbage

2

Tablespoons

patis (fish sauce)

½

teaspoon

ground black pepper powder

1/2

teaspoon

salt

1/8

teaspoon

sesame oil

2

stalks

scallions,

chopped, for garnish

1

whole

lemon or calamansi (Filipino lime)

sliced, for sprinkling over pancit
Instructions
In a large bowl, soak the noodles in lukewarm water for about 10 to 15 minutes till they are soft enough to handle. Drain and set aside.

Using a large skillet or wok, over medium high heat, add the vegetable oil. Saute the garlic, onions and celery for 2 minutes till onions are translucent.

Add the fresh shrimps and fish sauce. Stir around the skillet to blend with the other ingredients.

Pour the chicken broth into the skillet.

Add the sayote slices and carrots. Cover skillet and continue cooking till the vegetables are soft, about 8 minutes. Add the cabbage slices which will cook in about 5 minutes.

Add the pancit bihon noodles to the skillet. Mix all the ingredients together till the broth coats the noodles. Continue cooking for about 5 to 6 minutes more so that noodles get softer as it absorbs the broth.

Season with salt, black pepper powder and sesame oil.

Sprinkle chopped scallions on top. Sprinkle with fresh lemon or calamansi juice all over. Serve piping hot.

Cook's comments: I have cooked this Pancit Bihon in other recipes using pork and chicken slices, as well as other vegetables in season.

Hello, Friends! All the images and content on this blog are COPYRIGHT PROTECTED and owned by my media company Besa-Quirino LLC. This means BY LAW you are NOT allowed to copy, scrape, lift, frame, plagiarize or use my photos and  recipe content I wrote, on your website  without my permission. If you want to republish this recipe or content on another website or news article, please ASK my permission, re-write it in your own words and simply link back to this blog to give proper attribution. It's the legal thing to do. Thank you. Email me at [email protected]
Notes on Nutrition: The nutrition information provided in the recipe links is an estimate and will vary based on cooking methods and specific brands of ingredients used.
Copyright Notice: Hello, Friends! Please DO NOT LIFT OR PLAGIARIZE Asian in America recipes on this blog, my original recipes, stories, photos or videos. All the images and content on this blog are COPYRIGHT PROTECTED and owned by my media company Besa-Quirino LLC by Elizabeth Ann Quirino. This means BY LAW you are NOT allowed to copy, scrape, lift, frame, plagiarize or use my photos, essays, stories and recipe content on your websites, books, films, television shows, videos, without my permission. If you wish to republish this recipe or content on media outlets mentioned above, please ASK MY PERMISSION, or re-write it in your own words and link back to my blog AsianInAmericaMag.com to give proper attribution. It is the legal thing to do. Thank you. Email me at [email protected]