Torta Di Mele, Italian Apple Cake
As an Amazon Associate and member of other affiliate programs, I earn from qualifying purchases.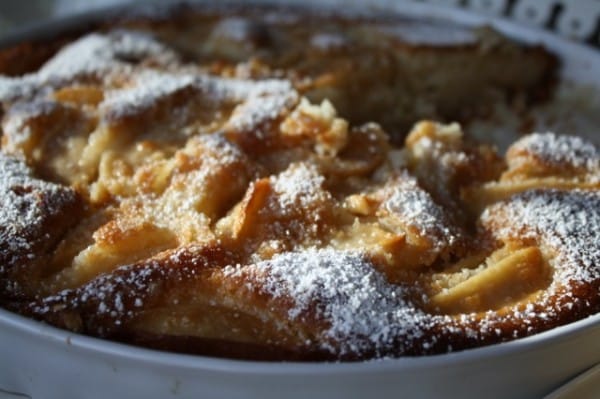 I baked a Torta di Mele when I visited Manila and stayed at my cousin's home last year. That's how easy and versatile this Italian apple cake recipe is. You can cook this anywhere in the world. The most basic ingredients are the apples. In addition, Filipinos have a fascination for Italian dishes. And this gorgeous, easy to bake cake was a great way to remind my family of our love for Italian food.
I thought of baking an apple cake because the holidays remind me of apples and the scent of apples remind me of Christmas. A long time ago, apples were a novelty in the Philippines before importation of this foreign fruit became easier. We could only enjoy apples during Christmas time, and could only find them at markets that sold "imported" food. Ever since I've always associated the aroma of a big, ripe red delicious apple with the excitement of Christmas.
I found this Torta Di Mele recipe by Domenica Marchetti of DomenicaCooks.com and marveled at how easy it was to bake such a beauty. True enough, the recipe was a cinch. Once out of the oven, the plump apple slices protruded invitingly above the cake. It was hard to control myself from hand picking a slice to taste it right then and there. The golden apple slices layered on the buttery cake left a lingering freshly-baked aroma around the room.
I first met my friend Domenica Marchetti, cookbook author and food writer, at a food bloggers' conference "Eat Write Retreat" a few years ago in Washington D.C. She was a guest panelist and the topic was "Beyond the Blog". I still have those notes from that session and Domenica's wisdom was invaluable for me as it was for other food bloggers who were there. She advised: "Look for fresh inspiration. Twist things around. We all are unique, everyone is different from others. "
Domenica suggested "talk to people, get off the beaten path, be open to new things and other experiences."
Somehow, that is exactly what I did for this cake. I was lured by the familiarity and my fascination for apples. At the same time, I stepped out of my comfort zone, and baked a new recipe for the holidays. I will still bake the traditional Filipino pastries and "kakanin" (rice cakes) my family looks forward to at Christmas. But I'm starting a new tradition and that is to bake a new pastry, to add to the repertoire of goodies we will enjoy at our Noche Buena on Christmas Eve and for the New Year's celebrations.
One thing is for sure, a new baking experience always elicits the best compliments from my family around our table. As Domenica suggested, let's "be open to new things and new experiences" this coming New Year's. From our home to yours, I wish you all my dear readers, a very Happy New Year. May 2015 bring you all an abundance of only the best!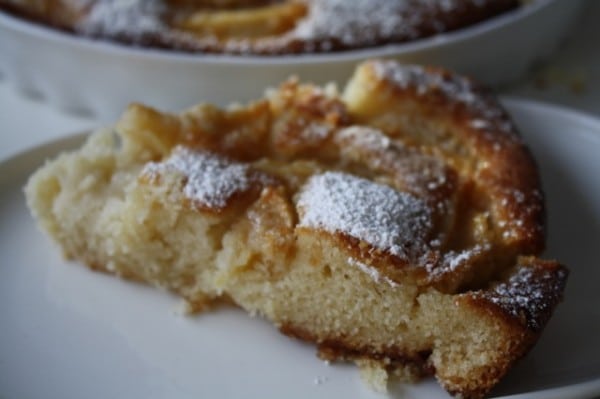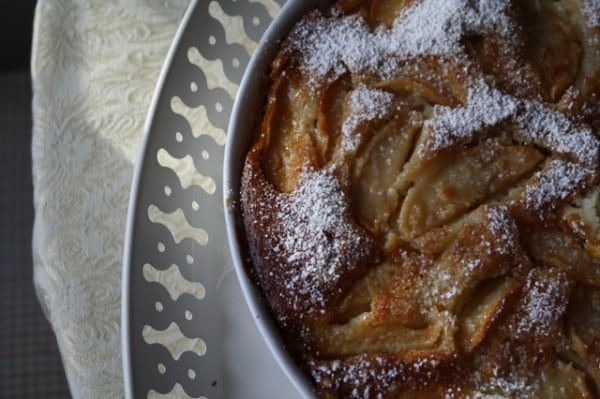 Torta di Mele - Italian Apple Cake
Torta di Mele is a traditional Italian apple cake. Filipinos love Italian food and will love this classic dessert. This was easy to bake and only needed a few apples and basic baking ingredients. I have baked different Torta di Mele recipes before because as Domenica Marchetti said "everyone has different versions of this cake." This cake bakes quickly and will make a wonderful addition to your holiday desserts or as a gift to friends. This recipe was slightly adapted from
Serves 4 to 6.
Ingredients
1/2

cup

vegetable oil;

plus 1 Tablespoon for greasing the pan

1 1/2

cups

all purpose flour

unbleached

2

teaspoons

baking powder

1/4

teaspoon

fine sea salt

1

whole

large egg

1/2

cup

whole milk

or half-and-half

1

Tablespoon

lemon juice

1

teaspoon

lemon zest,

finely grated

1/2

teaspoon

vanilla extract

2 to 3

whole

large apples, delicious or fuji variety;

peeled, cored and quartered, cut into thin slices

2

Tablespoons

unsalted butter,

at room temperature

1

cup

granulated sugar,

¼

cup

Confectioners' sugar, to sprinkle on top
Instructions
Preheat the oven at 375 F degrees.

Prepare the baking pan by greasing a round 8-inch springform pan with oil. Place a piece of parchment paper at the bottom of the pan. Lightly grease the paper with the oil.

Separately, in a large bowl mix together the flour, baking powder and salt. Whisk these dry ingredients together. Set aside.

In another bowl, mix the oil, egg, milk, lemon zest, 1 cup sugar and vanilla extract. Whisk together till ingredients are well blended.

In a separate medium-sized bowl, mix together the lemon juice with the apple slices. Toss together. Set aside.

Slowly add the wet ingredients to the dry ingredients. Mix well with a whisk or a wooden spoon.

Add the sliced apples by hand. Gently fold the apples into the batter. Pour into the pre-greased cake pan.

Separately, in a small bowl, mix the 2 Tablespoons sugar and the butter. Using your fingers, mix this sugar-butter combination till it clumps. Evenly add the sugar-butter mix over the top of the cake, spreading it all around.

Bake at 375 F for 45 to 50 minutes till the topping is golden brown and when cake tester comes out clean.

When cake is done, cool on the counter for around 20 minutes. Then loosen the sides of the cake with a knife and turn cake over on a rack to cool some more. Peel off the parchment paper at the bottom of the cake.

To plate: invert the cake back to its original form on a large round platter, with the apple slices on top. Sprinkle the top with confectioners' sugar before serving.

Cook's comments: In the

, Domenica added 1/4 cup chopped walnuts (or almonds) to the butter-sugar topping. I omitted nuts due to family allergies. Feel free to add walnuts or almonds if desired.

Hello, Friends! All the images and content here are COPYRIGHT PROTECTED and owned by my media company Besa-Quirino LLC. This means BY LAW you are NOT allowed to use my photos or content on your website  without my permission. If you want to republish this recipe or content, please ask my permission, re-write it in your own words and simply link back to this blog to give proper attribution. It's the legal thing to do. Thank you.
Nutrition
Serving:
1
g
|
Calories:
207
kcal
|
Carbohydrates:
41
g
|
Protein:
6
g
|
Fat:
2
g
|
Saturated Fat:
1
g
|
Cholesterol:
3
mg
|
Sodium:
161
mg
|
Potassium:
301
mg
|
Fiber:
1
g
|
Sugar:
2
g
|
Vitamin A:
49
IU
|
Calcium:
128
mg
|
Iron:
2
mg
Notes on Nutrition: The nutrition information provided is an estimate and will vary based on cooking methods and specific brands of ingredients used.
Did you like this recipe? I have more classic recipes inspired by my late mother's cooking in my popular cookbook: My Mother's Philippine Recipes. If you're learning how to cook Filipino food or a fan of Philippine cuisine, buy my cookbooks and books on Amazon.com sold worldwide in paperback and Kindle format.
Hello, Friends! Please DO NOT LIFT OR PLAGIARIZE my original recipe, stories, photos or videos. All the images and content on this blog are COPYRIGHT PROTECTED and owned by my media company Besa-Quirino LLC. This means BY LAW you are NOT allowed to copy, scrape, lift, frame, plagiarize or use my photos, essays, stories and recipe content on your websites, books, films, television shows, videos, without my permission. If you wish to republish this recipe or content on media outlets mentioned above, please ASK MY PERMISSION, or re-write it in your own words and link back to my blog AsianInAmericaMag.com to give proper attribution. It is the legal thing to do. Thank you. Email me at [email protected]