Pork Barbecue Ribs
As an Amazon Associate and member of other affiliate programs, I earn from qualifying purchases.
[amazon_link asins='B016ZIB8KQ,B00004RALL,B073Y1R668,B072JCWQ4H,B071LTS6C9,B01M3VWKHU,B012P4BOLW,B000T9UV2O,B00AS435N2′ template='ProductCarousel' store='queensnotcom-20′ marketplace='US' link_id='91eed065-e77f-11e8-8459-211e8ec9a868′]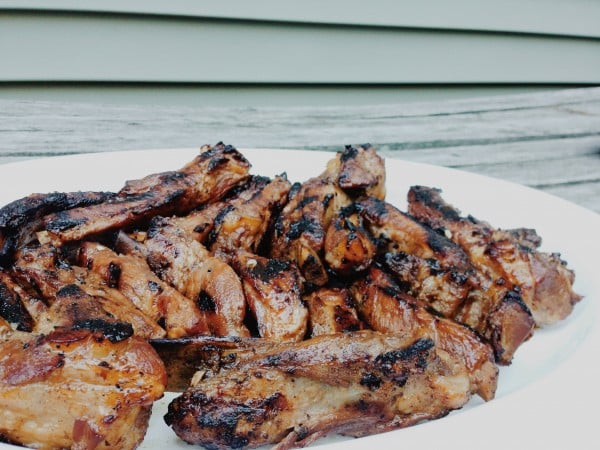 We only have a few short months to fire up the grill for Pork Barbecue Ribs, one of our char-grilled favorites. We live on the east coast and the cold weather combined with winter season makes up for nearly 8 months of wintry mix here. So, for safety reasons, we shut off the outdoor grill.
One summer weekend, I phoned my grown sons that I had slabs of pork ribs. I also had leftover pineapple juice and so I put this together in a large pot, with a whole can of Sprite, some seasonings and let the pork ribs boil and tenderize in a simmering stew. Yes, Sprite was used for the broth. I have been asked by friends here in the States why I use Sprite or 7-Up often to marinate meats. It must be a Filipino thing, I tell friends.
As Pampanga-based Filipino food writer Karen Shih (of 'The Pilgrim's Pots and Pans') confirmed to me, 'It's the Filipino penchant for sweet-savory flavors'. In addition, I also thought that it was a way to tenderize meat, remembering how my mom used to add 7-Up to grilled pork barbecue skewers. If one looks around, other Filipino recipes of barbecues or grilled meats have often used soda like Sprite or 7Up in marinades. It has an added dimension that extends the flavors or can help dilute the strong savory zest of soy sauce or banana catsup, other usual ingredients in Filipino marinades.
These ribs you see were the result of our family grilling endeavor. After tenderizing the meat stove top by simmering it a few minutes, we transferred the ribs to the outdoor grill. My son, Tim finished it off by grilling over medium high for the last 25 minutes.
The pork was crisp and had browned grilled edges on the outside, yet the soft, succulent insides were nearly falling off the bone, as we transferred it to the platter. We've cooked the ribs several times since this first photo. The second time, after char-grilling, I served it with a bed of steamed fragrant jasmine rice and a fresh tomato salad. The heavenly sweet-salty flavors of the very tender pork ribs made us all wish we could hang on to summer just a little bit longer.
Pork Barbecue Ribs
These Pork Barbecue Ribs are a favorite summer dish of our family. But if you have good weather and access to a grill year round, then this is an amazing and easy indulgence anytime. The secret to its succulence is marinating the meat overnight. These ribs soaked in pineapple and Sprite, plus seasonings. The next day, I stewed them till they were tender. We finished off the last phase of cooking by grilling the pork ribs outdoors. It was a fun, flavorful sweet-savory pork ribs entree. This is an AsianInAmericamag recipe and serves 4.
Ingredients
7

lbs.

bone in Pork loin ribs

2

cups

pineapple juice

1

can Sprite

or 7-Up soda

2

Tablespoons

soy sauce

1

Tablespoon

Worcestershire sauce

1

teaspoon

minced garlic

1

teaspoon

salt

1

teaspoon

freshly ground black pepper

for serving boiled jasmine white rice
Instructions
Marinate pork loin ribs with the pineapple juice, Sprite, soy sauce, Worcestershire sauce, garlic, salt and pepper. Keep in a sealed container and refrigerate overnight.

The next day, place the pork loin ribs with the liquid marinade in a large stock pot. Over medium high heat, bring the mixture to a boil in about 5 to 6 minutes. After it boils, lower heat to a slow simmer and cook ribs for 1 hour till tender. Keep the pot covered while cooking.

Preheat the outdoor grill to a medium high. Finish off cooking the pork loin ribs by removing from the pot after the hour of simmering. Place the ribs in the center of the grill and cook for 25 minutes more till edges of meat get brown.

Serve ribs immediately while warm.
Hello, Friends! All the images and content here are COPYRIGHT PROTECTED. This means BY LAW you are NOT allowed to use my photos or content on your site  without my permission. If you want to republish this recipe, please re-write it in your own words and simply link back to this blog to give proper attribution. It's the LEGAL thing to do. Thanks for your cooperation. Email me at [email protected]