Singapore-style Fried Noodles
As an Amazon Associate and member of other affiliate programs, I earn from qualifying purchases.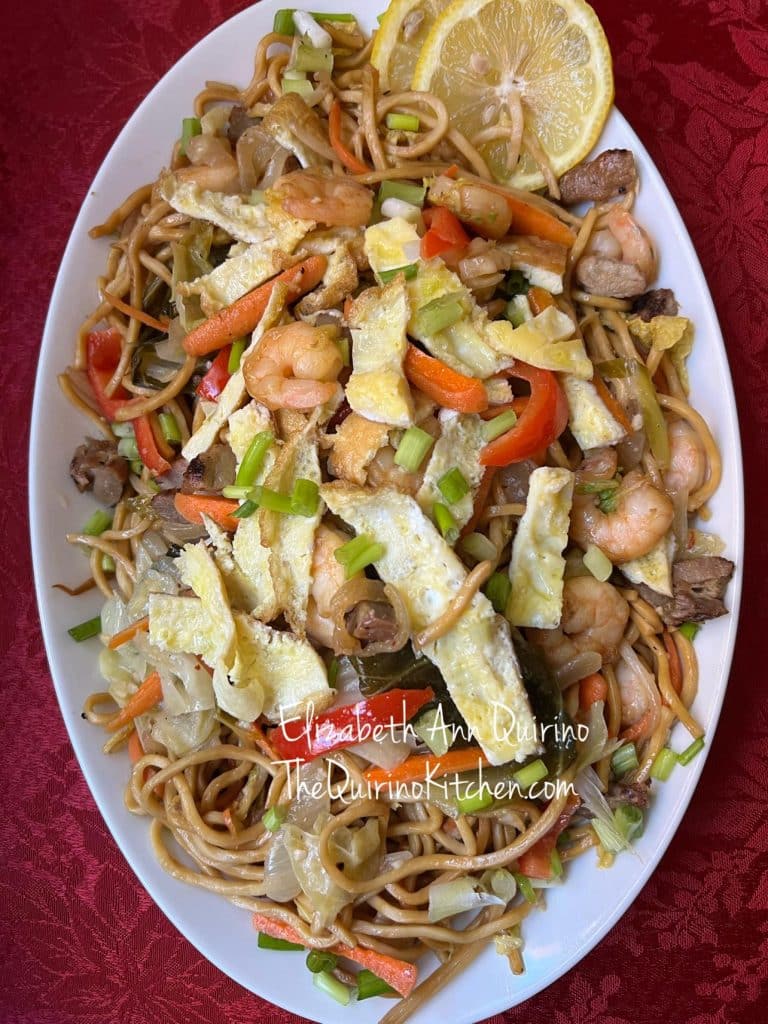 I cooked my version of a festive platter of Singapore-style Fried Noodles, which has so many similarities to our Filipino pancit. I made this dish to commemorate November 1st and it reminded me of the food we prepared in the Philippines to honor our departed. To most Filipinos, November 1st and 2nd are also called UNDAS, an acronym for the phrase Un Dia de Almas y Santos.
When we were growing up, my parents celebrated this holiday with reverence. Like clockwork, going to the Tarlac cemetery to honor the graves of our grandparents, great grandparents, and other departed relatives was a tradition we could not break.
Those times, I can't forget how the hot tropical weather pierced through our bodies. The sun was scorching hot. It was the middle of the day. The narrow highway had cars coming from all points. Traffic was a standstill. Regular midsized cars and their rumbling engines inched slowly on the road, next to street pedicabs, multi-colored 12-passenger jeepneys, rickety pickup trucks. There were street vendors on the curb and sidewalk stands. There were flower vendors going from vehicle to vehicle, on foot, hawking their wares.
It was November 1st in the Philippines, and we were about to celebrate the "Day of the Dead" (or "Araw ng Mga Patay" as Filipinos call it). This was something similar to the Mexican's "Dia de los Muertos" celebrations.
In our own car, my sister and I, as kids then, were seated quietly, with our parents. Food was packed in a cooler at the trunk. Right next to it were floral arrangements and large candles. Our car inched slowly through the Tarlac traffic. As we got closer to our destination, the cacophony of noises grew louder. Modern pop music blasted through speakers. Drivers impatiently honked their cars. Loud voices could be heard. The smell of burning candles & the scent of flowers was all around.
Thousands of Filipinos go to their family tombs on November 1st. Cemeteries in the Philippines have mausoleums. Each one has generations of families buried together in the same graveyard property. Filipinos adorn their family burial sites with flowers, and candles. Food is brought on site, and eaten like one is at a picnic. It is an all-day event, which starts a few weeks before when grave sites are cleaned up.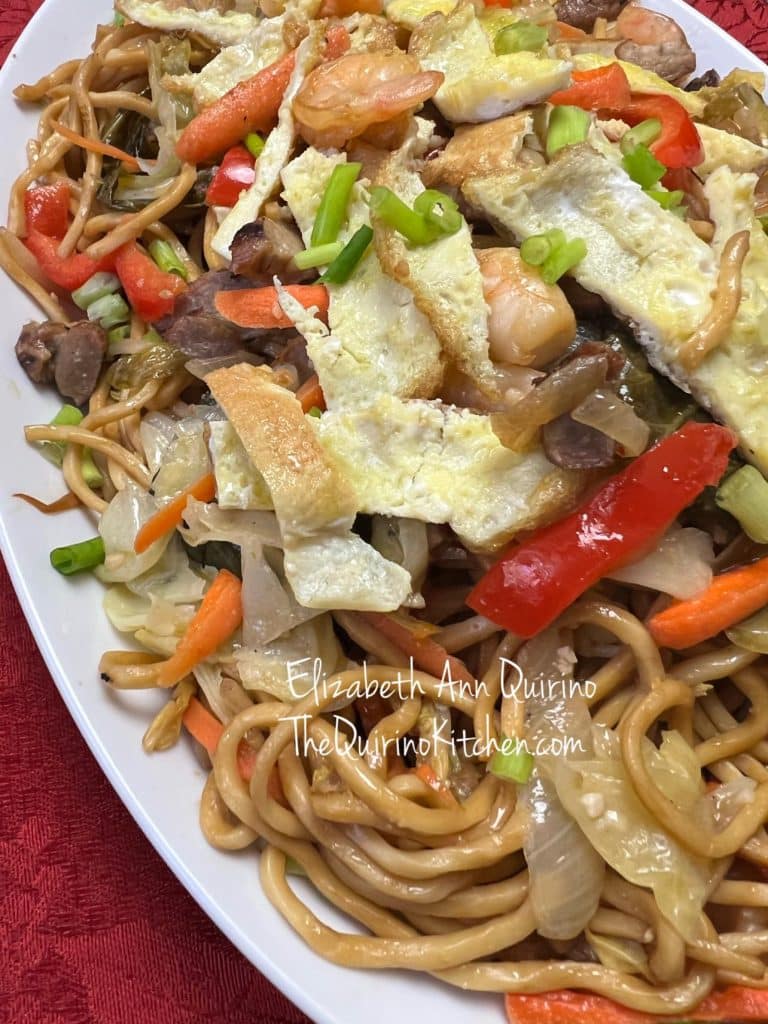 Our relatives traveled from Manila, and put up with the heat and traffic for three hours to get to our family's mausoleum in our hometown, Tarlac. It was an annual event. We'd sit by the family tombs. My aunt led the prayers, for the departed.
At the cemetery, we'd run into old friends, who were also visiting their own grave sites. Stories were shared. These were customs and traditions we practiced on November 1st, when I was growing up in the Philippines. Coming together at our ancestors' gravesites on this day was like a big social celebration for Filipinos. It was always a festive day.
My husband recalls as a young boy, how he and his cousins would go grave-hopping and collect candle wax from different gravesites. As kids then, they used to play around with those collected candle wax, form them into little balls and goof around.
Filipinos love celebrations. The 'Day of the Dead' on November 1st was always a reason to cook a lot of food and have family reunions.
Even if I'm far away from the Philippines I think of those traditions. Prayer and remembrance is constant, and it is the first thing I do to start that day.
Today in my American kitchen, I couldn't help but get caught up in my memories. I wanted to celebrate. I prepared "fiesta fare" which I cook when we're expecting guests. Even if no one was coming, I cooked a noodle dish. Noodles are often considered a special-occasion dish for guests like this Singapore-style Fried Noodles. The good thing about Asian noodle dishes is that ingredients are always "a little of everything". There was a little meat, a little shrimp, a few vegetables, some broth, and the noodles.
The rich combination of garlic, scallions, and bell peppers, gave off an inviting scent. I added the pork and shrimps. The sizzling hiss from the pan was irresistible. And finally, mixing in the vegetables, noodles and seasonings completed the dish. The aromatic noodle dish flavors brought back memories of how we celebrated November 1st back in the Philippines. Araw ng mga Patay (Day of the Dead) was all about celebrating the living. It meant family, good food and good times.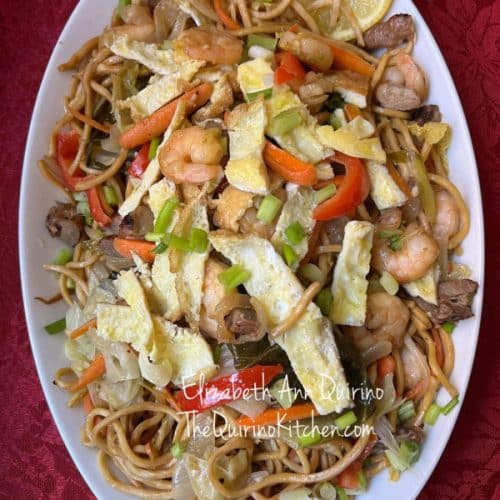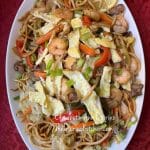 Print Recipe
Singapore-style Fried Noodles
This Singapore-style Fried Noodles dish is a rich, colorful combination of thick wheat noodles, with pork, shrimps, vegetables and seasonings. A dash of curry is added to spice up this all-in-one meal, which is great served family-style for special events or a weekend meal. This is a recipe by Elizabeth Ann Quirino on The Quirino Kitchen.
Ingredients
1

pound

fresh Chinese wheat noodles

4

Tablespoons

vegetable oil

2

cloves

garlic, minced

1

whole

onion, chopped

2

stalks

scallion whites, chopped

1

cup

julienned strips of carrots

1

Tablespoon

patis (fish sauce)

1/2

pound

pork shoulder or pork belly, sliced thin in 1/2-inch pieces

1/2

pound

fresh shrimps, peeled, heads and tails removed

1

cup

broth; vegetable or chicken

2

teaspoons

yellow curry powder

1

cup

sliced green beans, cut into 1-inch pieces

3

cups

shredded cabbage

1/4

teaspoon

salt

1/4

teaspoon

ground black pepper

1

whole

large eg, cooked scrambled, sliced in strips;

for garnish

2

stalks

scallion greens, for garnish

1/2

cup

slices of red bell pepper, for garnish

slices

of lemon; for garnish
Instructions
To prepare Chinese noodles:
The fresh Chinese wheat noodles are already pre-boiled.

Wash the noodles in cold running water for a few seconds. Drain in colander.

In a medium-sized stockpot, blanch the noodles in boiling water for 10 seconds and not longer. Do not let noodles blanch too long or they will stick and clump together. Drain noodles and set aside.
To cook the Singapore-style Fried Noodles:
In a large wok or skillet, over medium-high heat, pour the oil. Add the garlic, onions, scallion whites, and carrots. Stir fry for about 2 minutes till soft and fragrant.

Pour the patis.

Add the pork and shrimps. Cook for about 5 to 6 minutes till pork turns brown and shrimps become pink.

Pour the broth. Add the curry powder and blend in the mixture with other ingredients.

When meat and shrimps are nearly cooked, add the green beans and cabbage.

Continue cooking for 5 to 6 minutes more till vegetable greens are soft.

Season with salt and black pepper.

Garnish with slices of scrambled egg, red bell pepper strips, scallion greens, and lemon. Serve warm.
Cook's comments:
I use the fresh, Chinese noodles for this recipe which are thick and made of wheat. They are found in Asian or Chinese groceries, by the freezer section.

You can also use dry noodles if that's what you have available. There are no hard and fast rules for this noodle recipe.
Nutrition
Serving:
100
grams
|
Calories:
0.3
kcal
|
Carbohydrates:
0.1
g
|
Protein:
0.01
g
|
Fat:
0.01
g
|
Saturated Fat:
0.003
g
|
Sodium:
145
mg
|
Potassium:
2
mg
|
Fiber:
0.03
g
|
Vitamin A:
1
IU
|
Calcium:
1
mg
|
Iron:
0.01
mg
Notes on Nutrition: The nutrition information provided in the recipe links is an estimate and will vary based on cooking methods and specific brands of ingredients used.
Copyright Notice: Hello, Friends! Please DO NOT LIFT OR PLAGIARIZE Asian in America recipes on this blog, my original recipes, stories, photos or videos. All the images and content on this blog are COPYRIGHT PROTECTED and owned by my media company Besa-Quirino LLC by Elizabeth Ann Quirino. This means BY LAW you are NOT allowed to copy, scrape, lift, frame, plagiarize or use my photos, essays, stories and recipe content on your websites, books, films, television shows, videos, without my permission. If you wish to republish this recipe or content on media outlets mentioned above, please ASK MY PERMISSION, or re-write it in your own words and link back to my blog TheQuirinoKitchen.com to give proper attribution. It is the legal thing to do. Thank you. Email me at [email protected]
*Note: This blog post was updated from a previous one years ago. I added new photos of the dish I cooked today to make this more current. A previous recipe was also featured by The Happy Home Cook on Positively Filipino magazine.