Adobong Mani – Peanuts in Garlic
As an Amazon Associate and member of other affiliate programs, I earn from qualifying purchases.
Adobong Mani translates to peanuts cooked the Filipino adobo way, with lots of garlic .The raw peanuts with skin, are pan fried in hot oil, that's been flavored with garlic. Adobong mani is street food in the Philippines. It is commonly sold in most sidewalks. There is always a street vendor lurking in the sides, carrying a large bilao (say 'bee-lah-oh') which is a round, flat, shallow basket. The Adobong Mani's garlicky fragrance lures you.
When we were children, we summered in Baguio City (Philippines), and what I enjoyed best was going to Burnham Park. What made the day perfect was when the peanut vendor, sold us a bag. I cannot forget the aroma of the garlic. The little brown nuts glistened as the seller scooped a cupful to pour into a brown bag. I can still hear the sound the peanuts made as they were poured – like heavy droplets of rain on a roof, which grew faint as the brown bag filled up. I held on to the warm bag of peanuts, which we shared, as a family. I can still feel the grainy texture of the salt that encased the peanuts, and remember how I licked the salt from my hands. It was bliss to have indulged on that bag of garlicky Adobong Mani.
Today, decades later, in my American kitchen, I tried to recreate that moment, and the simple pleasure of enjoying garlic peanuts. Some things just stay with you forever.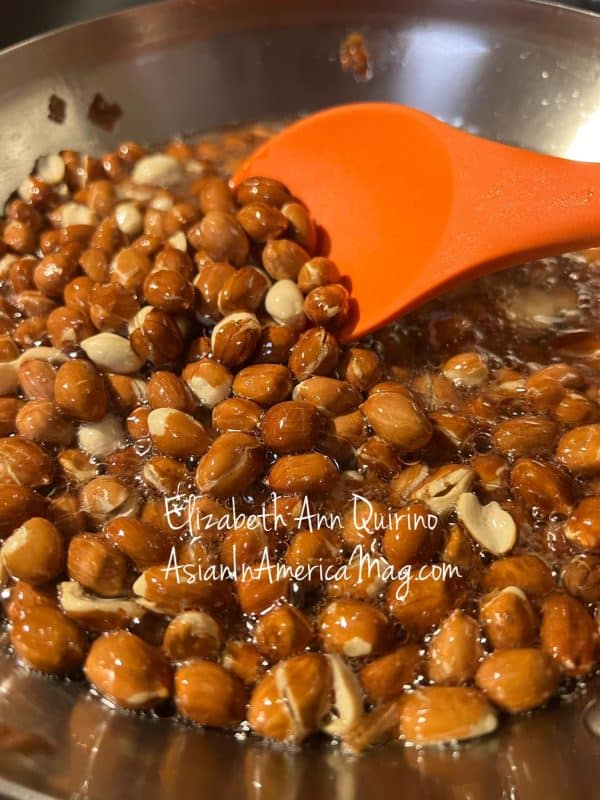 Adobong Mani - Peanuts in Garlic
Adobong Mani are peanuts cooked the Filipino adobo way, with plenty of garlic. These peanuts are pan-fried in hot vegetable oil, which is first flavored with garlic. When peanuts are cooked, season with salt all over. Serve these as appetizers or snacks. This is an Asian in America recipe by Elizabeth Ann Quirino.
Equipment
1 Large Wok or Skillet - 10 to 12 inches diameter

1 large tray, lined with parchment paper

1 large slotted spoon, for cooking
Ingredients
¾

cup

vegetable oil

1

whole head

garlic, about 8 to 10 cloves; peeled

2

cups

raw peanuts with skin

1

teaspoon

salt
Instructions
To prepare garlic:
Using a mortar and pestle, or else the back of a large kitchen knife, pound the whole head of garlic, till the cloves separate.

Pound the cloves of garlic and remove the peeling completely. You should have about 8 to 10 cloves from a whole head of garlic. Set aside.
To cook the Adobong Mani:
Over medium heat, in a wok or skillet, pour the vegetable oil.

Oil should be hot enough in about 3 minutes. If using a thermometer, oil should be about 350 F. (*Note: OIl should not be burning or it affects the flavors of the garlic and peanuts).

When oil is hot, add the garlic pieces. Pan fry in the oil for about 2 minutes till crisp.

Remove the crisp garlic with a slotted spoon, and place on the tray lined with parchment paper, to remove excess grease.

To the same wok or skillet, using the same oil flavored with garlic, add the peanuts. Spread the nuts all over in a flat layer.

Keep the temperature to a medium-low so that peanuts do not burn.

Using a slotted spoon or turner, continue to stir the peanuts every so often while cooking.

Keep stirring and cooking the peanuts up to 10 minutes. By this time, you will detect a nutty aroma coming from the skillet.

*Note: Do not leave the peanuts unattended or do not allow the heat to go high. Peanuts burn easily.

Using the slotted spoon, transfer the nuts to the tray lined with parchment.

Incorporate the crisp garlic into the peanuts.

Sprinkle salt evenly all over. Mix ingredients well.

Cool peanuts for about half an hour. Serve as appetizers, sides or snacks.
To store:
Store cooked Adobong Mani in air-tight jars or containers. These have a shelf life of about 2 to 4 weeks.
Cook's comments:
Peanuts: I used raw peanuts with their pink skin on, which I purchase in large bags from the Asian market or online sources like Amazon, or online supermarkets. I cook the peanuts as soon as I purchase them, while still fresh.Cooking oil: I used vegetable oil for this recipe because it is a cooking oil which has a neutral flavor and which will not overpower the outcome of the garlic peanuts' taste. Vegetable oil also has enough low to high smoke points to get the job done.Caution: Do not reuse the oil used in this recipe. Discard any leftover cooking oil.
Nutrition
Sodium:
1007
mg
|
Potassium:
1
mg
|
Calcium:
1
mg
|
Iron:
1
mg
Notes on Nutrition: The nutrition information provided in the recipe links is an estimate and will vary based on cooking methods and specific brands of ingredients used.
Copyright Notice: Hello, Friends! Please DO NOT LIFT OR PLAGIARIZE Asian in America recipes on this blog, my original recipes, stories, photos or videos. All the images and content on this blog are COPYRIGHT PROTECTED and owned by my media company Besa-Quirino LLC by Elizabeth Ann Quirino. This means BY LAW you are NOT allowed to copy, scrape, lift, frame, plagiarize or use my photos, essays, stories and recipe content on your websites, books, films, television shows, videos, without my permission. If you wish to republish this recipe or content on media outlets mentioned above, please ASK MY PERMISSION, or re-write it in your own words and link back to my blog AsianInAmericaMag.com to give proper attribution. It is the legal thing to do. Thank you. Email me at [email protected]