MaPo Tofu
As an Amazon Associate and member of other affiliate programs, I earn from qualifying purchases.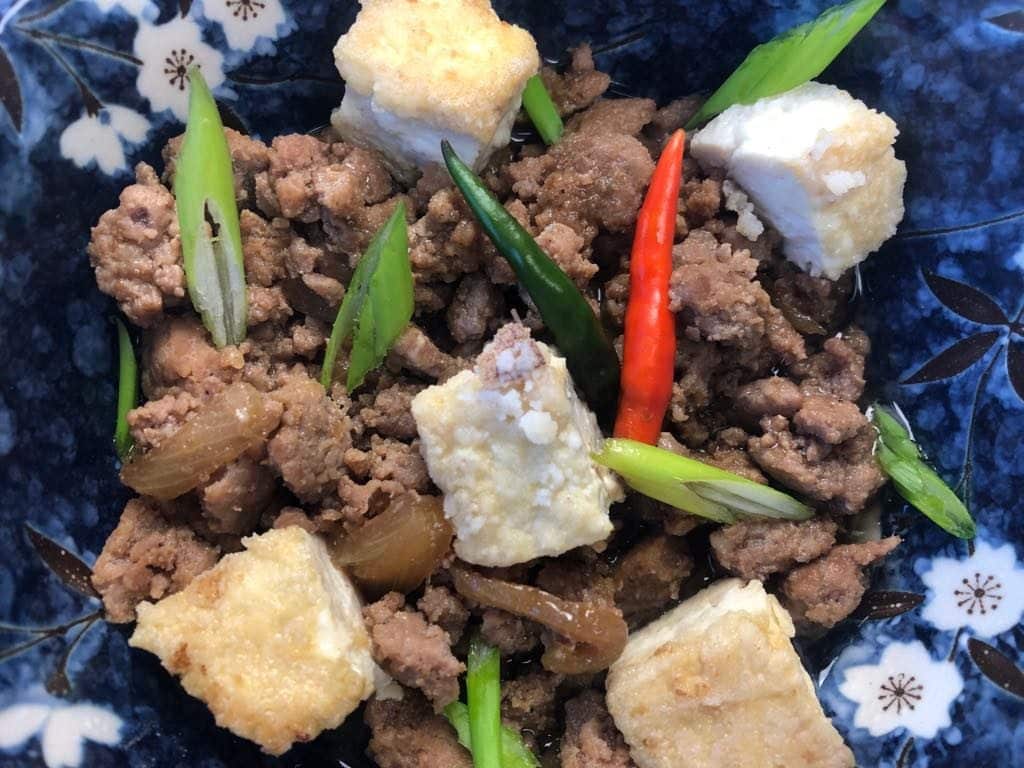 Our time sprung forward to an hour this weekend here in the States, as we got on Daylight Savings Time. I cooked MaPo Tofu, an easy recipe of ground pork with beef and tofu because the time change reminded me how fast the days will go in the next few months. I hope the snow on our lawn melts soon and gives way to the green grass, bluer skies, more sun and warmth.
When spring comes around, there's more to do outdoors and less time spent in the kitchen. So, I search for faster recipes to cook.
MaPo Tofu is a dish which my niece, Carlyne does expertly. This Chinese-influenced recipe has many similarities to Filipino entrees in robust flavors and method. So, I reached out to my niece for questions on ingredients. Carlyne said:" For my MaPo, I prefer oyster sauce or, in a pinch, hoisin (a little sweet too). I also add about two tablespoons of tomato paste for some red base."
Simple and easy, MaPo Tofu is just the dish for anyone on busy days. Whether you are a new cook or a pro, it's a main course you can whip up without thinking.
My niece Carlyne is an epitome of a young working wife and mother of a toddler, with hardly any time to cook, yet still maintains her wholesome meal-planning and regular workouts. Tofu and the ground meat do a perfect dance in this dish. You get silky, soft cloud-like textured tofu prettily grazing the almost crisp pan seared ground pork and beef. The thickened soy sauce base complements the whole dish. And for a little kick, you can add your own chilies and spice, too. It's truly a forgiving entrée but fills you up just the way you want it to in the shortest time.
MaPo Tofu
MaPo Tofu is a classic Asian dish with many similarities to Filipino entrees. My version has ground beef and pork stir-fried in a sauce base of soy, hoisin, rice wine and spices. The strong flavors are a good contrast to the simplicity of the firm tofu cubes. This zesty meal is perfect served with steamed jasmine white rice or any boiled rice preferred. This recipe was adapted from The Chinese Takeout Cookbook by Diana Kuan. Serves 4 to 6.
Ingredients
1

block (3 oz)

extra firm tofu

drain liquid

1/4

cup

vegetable oil

1/2

pound

ground pork

1/2

pound

ground beef

1

medium-sized

onion

chopped

2

cloves

garlic

minced

2

stalks

scallion whites

chopped

1

cup

beef or chicken broth

2

Tablespoons

tomato paste

2

Tablespoons

Shao xing rice wine

2

Tablespoons

soy sauce

2

Tablespoons

hoisin sauce

1/2

teaspoon

salt

1

teaspoon

ground black pepper

1/2

teaspoon

red pepper flakes

1/2

teaspoon

sesame oil

2

Tablespoons

cornstarch

1/4

cup

water

to disperse cornstarch

2

stalks

scallion greens

chopped, for garnish

2

pieces

bird's eye chilies

sliced

2 to 3

drops

Sriracha sauce

to sprinkle

steamed rice

for serving
Instructions
To cook the tofu:
In a large, nonstick skillet, over medium-high heat, add the cooking oil. After 1 to 2 minutes, when oil is hot, add the whole block of tofu. Brown on each side for 2 minutes, using a large turner. Drain tofu on parchment paper to remove excess oil. Cut into 1-inch cubes. Set aside.
To cook the ground meat:
Using the same skillet, discard the excess oil. Leave 2 tablespoons oil. Tilt the pan around to spread the oil. Over medium-high heat add the ground pork and beef. Cook the meat for 8 minutes. The meat will render its own fat and more oil will be apparent in the skillet. Cook till the meat turns brown and sizzles.

Move the meat to the sides of the pan. To the empty space in the center, add the garlic, onions and scallion whites. Saute for 2 minutes.

In a separate small bowl combine the following: broth, tomato paste, rice wine, soy sauce, hoisin sauce. Blend well. Pour this mixture into the skillet with the ground meat. Season with salt, pepper, red pepper flakes, and bird's eye chilies.

Continue cooking for 6 to 7 minutes more till meat is completely done.

In a separate small bowl, mix the cornstarch and 1/4 cup water till there are no lumps. Add this slurry to the ground meat in the skillet. Stir a few times so the cornstarch does not stick to the skillet. The liquid will boil in 2 to 3 minutes and will thicken. Add the sesame oil. Turn off the heat.
To assemble the MaPo Tofu:
Arrange the ground meat in a bowl. Pour the sauce over it. Garnish with tofu cubes and scallion greens. Drizzle Sriracha sauce all over. Serve warm with rice.
Copyright Notice
Hello, Friends! Please DO NOT LIFT OR PLAGIARIZE my original recipe, stories, photos or videos. All the images and content on this blog are COPYRIGHT PROTECTED and owned by my media company Besa-Quirino LLC. This means BY LAW you are NOT allowed to copy, scrape, lift, frame, plagiarize or use my photos, essays, stories and recipe content on your websites, books, films, television shows, videos, without my permission. If you wish to republish this recipe or content on media outlets mentioned above, please ASK MY PERMISSION, or re-write it in your own words and link back to my blog Asianin

Americamag.com

to give proper attribution. It is the legal thing to do. Thank you. Email me at

[email protected]
Nutrition
Calories:
477
kcal
|
Carbohydrates:
13
g
|
Protein:
21
g
|
Fat:
38
g
|
Saturated Fat:
20
g
|
Cholesterol:
81
mg
|
Sodium:
1096
mg
|
Potassium:
482
mg
|
Fiber:
1
g
|
Sugar:
5
g
|
Vitamin A:
255
IU
|
Vitamin C:
6.7
mg
|
Calcium:
37
mg
|
Iron:
2.3
mg