How to cook Grilled Pork Adobo Ribs
As an Amazon Associate and member of other affiliate programs, I earn from qualifying purchases.
[amazon_link asins='B01HITNEEY,B00IU5YIXC,B071KK9QGP,B000RA8D6Q,B00FMOXYM0,B003UKII9W' template='ProductCarousel' store='queensnotcom-20′ marketplace='US' link_id='bdb5fb26-7ee5-11e7-8b39-db23d1f48c41′]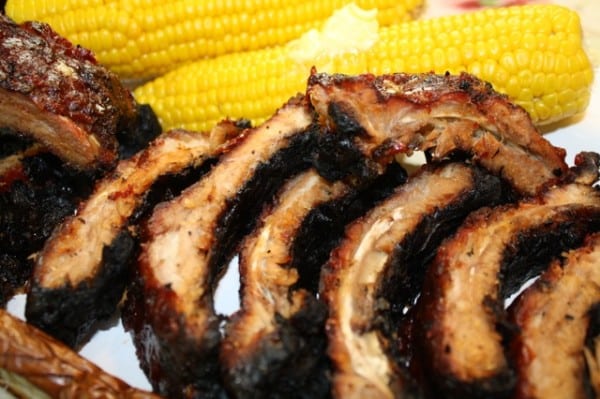 Once when my mom was teaching me how to cook adobo she said "the best thing about our adobo is that you can be anywhere in the world and still cook it. It will be like you never left home." I thought of this when I cooked these Grilled Pork Adobo Ribs.
As early as then, mom had a vision of me moving halfway around the world from the Philippines.
She was right. Filipinos like me travel all over the world. Some of us uproot and live in other countries. When we do, one of the first dishes we cook in our new home is adobo.
Adobo is not just the national dish of Filipinos. It is also universal. It is the kind of Filipino food we cook no matter where we are in the world.
The amount varies. The pork and chicken amount may not be the same for all. The stock pots differ. The stoves are different. But one thing stays the same – we use garlic, vinegar, bay leaves, peppercorns and a little soy sauce as the base for the recipe. The outcome is always a garlicky-vinegar rich stew. The beauty is in its simplicity. 'Drop and simmer' is all you need to do. Its heady aroma of garlic mixed with vinegar is intoxicating. The extra gravy was meant to be poured on mounds of boiled rice. It is a stew that tastes better days after. Like a dear old friend, an adobo dish is a dependable entrée.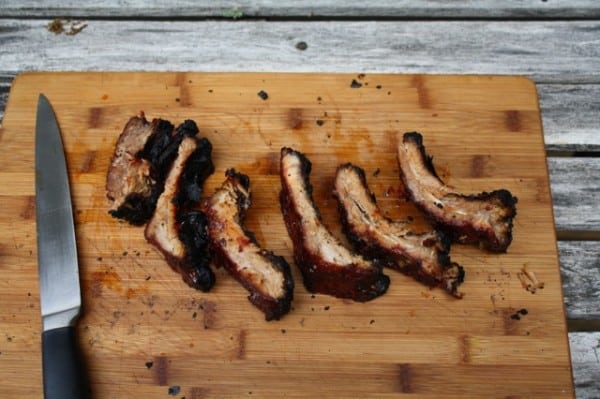 These pork adobo ribs I made were marvelous. The recipe was from "Memories of Philippine Kitchens" by award-winning authors Amy Besa and Romy Dorotan, owners of Purple Yam NYC and Malate. This recipe had also been written about by The New York Times' Julia Moskin.
I went a step further with this adobo. After the hefty ribs simmered in the addictive garlicky-vinegar stew, I tossed them on the pre-heated outdoor grill. It took less than half an hour for this amount to get shiny, dark brown and crusty. The incredible garlic scent got embedded in the crevices of the ribs. The combined aroma of vinegar and grilled pork made my head spin once the smoke swept upwards in the air.
Summer was finally here. I waited all winter for the warmth and the golden rays to light up my days. I finally got to uncover our grill on the patio. And the first thing I did was grill these pork adobo ribs.
Mom was right. Adobo makes it all seem right. It's like I never left home. Yes, I was home.
Grilled Pork Adobo Ribs
Adobo is one of the easiest dishes to cook. These Grilled Pork Ribs Adobo first simmered in a stew of garlic, vinegar, bay leaves and peppercorns. The ease of the recipe adds to its appeal. In the winter, I put these ribs in the broiler for a grilled finish. Now that summer was here, I placed the rack on the outdoor grill at the last stage of cooking. Serve these ribs with grilled vegetables,
pickled green mangoes
and rice. This recipe was adapted from "Memories of Philippine Kitchens" by
Amy Besa and Romy Dorotan
(Stewart. Tabori and Chang). It inspired a recipe review by
Julia Moskin
of
The New York Times
. The recipe I cooked served 2, up to 4 with rice.
Ingredients
1

whole side

about 2 pounds (cut in individual pieces if stockpot is not large enough ) baby back pork ribs

2

teaspoons

divided, 1 teaspoon for dry ribs, rest for dry rub salt

1

cup

or use organic, unfiltered vinegar if available Heinz cider vinegar

1

Tablespoon

soy sauce

3

pieces

bay leaves

1

large

remove stem, chopped jalapeno chili

6

pieces

peeled garlic cloves

2

teaspoons

black peppercorns

for serving boiled rice

for serving grilled vegetables

for serving grilled corn
Instructions
Prepare the ribs. If you have a large stockpot to fit a whole rack of pork ribs stewing, then keep the slab intact. (I used a large, deep wok). Slice the ribs if your stock pot is not large enough to fit the entire rack.

Season the ribs with 1 teaspoon salt. Rub the salt all over.

Prepare the marinade: mix in a bowl the vinegar, soy sauce, bay leaves and chilies. Set this aside.

Separately, in a mortar and pestle, combine the remaining salt, garlic and peppercorns. Grind them to a paste. The paste should have a rough texture. Rub this paste all over the ribs. Place the ribs in a resealable plastic bag. Pour the vinegar mix on the ribs. Refrigerate for at least one hour or overnight.

When ready to cook, take a large stockpot. Place the ribs and the marinade. Over medium high heat, bring this to a boil. Once it boils, lower the heat, cover and simmer for one hour. Pierce the ribs between the bones to test if the meat is tender.

Transfer the cooked ribs to a large tray. Continue to simmer the sauce till thick. This should take about 10 minutes. Watch the simmering sauce so it does not evaporate.

How to grill: preheat the outdoor grill to a medium high for about five minutes. Brush the cooked sauce over the ribs. Place on the middle of the grill. Grill till ribs are brown and edges are crusty for about 15 minutes. Brush the marinade every few minutes for a shiny glaze.

When cooked, allow the ribs to rest for 5 minutes on a chopping board. Slice between the bones. Serve with rice, grilled vegetables, grilled corn and

green mango pickles

.

Hello, Friends! All the images and content on this blog are COPYRIGHT PROTECTED and owned by my media company Besa-Quirino LLC. This means BY LAW you are NOT allowed to scrape, lift, frame, plagiarize or use my photos and  recipe content I wrote, on your website  without my permission. If you want to republish this recipe or content on another website or news article, please ASK my permission, re-write it in your own words and simply link back to this blog to give proper attribution. It's the legal thing to do. Thank you. Email me at [email protected]