Steamed Vegetables in a Rice Cooker
As an Amazon Associate and member of other affiliate programs, I earn from qualifying purchases.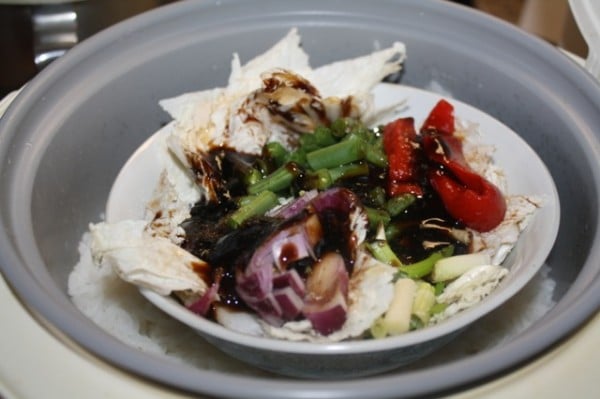 We often take for granted the little things that make our lives run smoothly. Like our own good health. I was not well this week. I won't bore you with details, but there was still dinner to be cooked, the house to be cleaned, chores to do. I rested a while. While going through my Instagram feed, I found a great recipe idea for dinner — Steamed Vegetables Cooked in a Rice Cooker. Pam Jorolan, from the family who owns"Everybody's Cafe" in San Fernando, Pampanga (Philippines) shared on her Instagram photos how to steam a bowl of Napa cabbage over cooked rice in a rice cooker. This was perfect for me. Even if I was feeling under the weather, I knew the vegetables in my bin would work for this.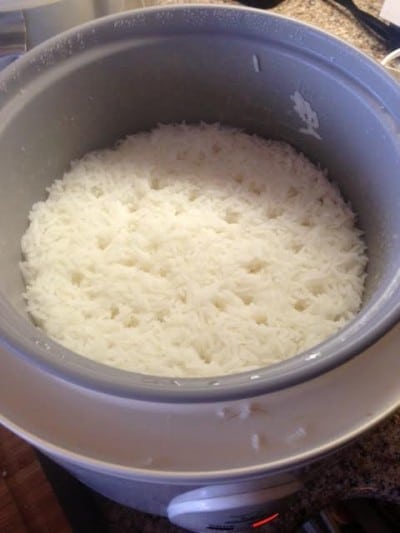 The first thing I do in the kitchen when cooking dinner is cook rice. I do it in the rice cooker. Boiled white rice is a staple in Filipino food. We eat all meals with white rice. Pam's recipe was a 15-minute easy, fuss-free, all in one meal for dinner. She even captioned her Instagram photo with "when you don't have time to cook". So following Pam's photos, I did this dish immediately after the rice had just been cooked. The sweet, boiled rice aroma was sublime with the savory Asian seasonings sprinkled on the crisp veggies.
Caring for our family does not stop no matter what goes on in our lives. But the best we have to give is ourselves. We can only do so with good health and good spirits. Take care of your health, my friends. Good health comes first over everything. With it, we can care for our family with all our love and all the good food we can cook.
Steamed Vegetables in Rice Cooker
Here's an easy, fast way to cook Steamed Vegetables in a Rice Cooker. Sliced Napa cabbage, green beans, slivers of onions, scallions, ginger all laced with sweet Hoisin sauce cooked over the steam from boiled rice is a quick, healthy way to make dinner. This was adapted from a recipe by Pam Jorolan of Everybody's Cafe via her Instagram feed @spamjorolan. Serves two.
Ingredients
1 1/2

cups

from Asian markets uncooked jasmine white rice grains

3

cups

to cook with rice in rice cooker water

1-2

cups

sliced in strips Napa cabbage (Chinese pechay in the Philippines)

1

cup

cut in 1/2 inch pieces green beans

1/4,

sliced onion

1

piece

about 1/2 inch, sliced in thin strips ginger

3 to 4

strips

about 2 inches length for each red bell pepper

1/4

cup

chopped scallions

2

Tablespoons

from Asian markets or ethnic aisle of major supermarkets hoisin sauce

2

teaspoons

from Asian markets xiao xing rice wine

2

drops

from Asian markets or ethnic aisle of major supermarkets sesame oil

1/2

teaspoon

sea salt

1/2

teaspoon

freshly ground black pepper powder

1

piece

peeled, sliced in half (optional, from Asian markets) salted duck's egg
Instructions
Equipment needed: rice cooker. (Available in major stores, Asian markets, online sources).

Cook rice in the rice cooker: wash uncooked white rice grains with water twice. Drain water. Add water to rice. Press "on" button. Rice automatically cooks in about 8 to 10 minutes for this amount of three cups.

Separately, in a heat-proof bowl that will fit inside rice cooker, layer the vegetables: sliced Napa cabbage, green beans, red peppers, onion slices, ginger, and scallions. Pour the hoisin sauce, Xiao Xing rice wine, sesame oil, sea salt, black pepper powder. Do not stir the sauces yet.

Place this bowl of vegetables and seasonings inside the rice cooker over the cooked boiled rice, immediately after the rice has cooked. The heat from the steam will cook the vegetables. Cover the rice cooker and let the vegetables cook for 15 to 17 minutes.

After vegetables have cooked, take out the bowl from the rice cooker. In a bowl, mix the  cooked rice and vegetables together. This will be the first time you should stir the sauces so that they mix in together with the rice and ingredients. Serve while still warm.

If desired, top with sliced salted eggs or steamed Chinese sausages (Chorizong Macau in the Philippines). See past blog post

how to cook Chinese sausages

.

Cook's comments: if you don't own a rice cooker, steam the vegetables with sauces and seasonings in a steamer over briskly boiling water for about 8 minutes. Cook rice separately as you prefer.

Ingredient notes: my family always prefers boiled jasmine white rice for all our meals and it is what I use for this recipe and those on this blog. If preferred, other types of rice can be used. Adjust cooking time according to package directions.

Ingredient substitute: on other days, I use Tamari soy sauce, low sodium instead of hoisin sauce. Tamari sauce is gluten-free (no wheat) and is found in Asian markets, large food stores or online sources.

Hello, Friends! Please do not plagiarize, copy or lift my articles, recipes or photos. All the images and content here are COPYRIGHT PROTECTED and owned by my media company Besa-Quirino LLC. This means BY LAW you are NOT allowed to use my photos or content on your website, videos, books, TV programs, media content  without my permission. If you want to republish this recipe or content, please ask my permission, re-write it in your own words and simply link back to this blog to give proper attribution. It's the legal thing to do. Thank you. Email me at [email protected]